Develop a custom Facebook Messenger Bot to enhance your organization's marketing, support and services. Some of the nation's largest brands have developed highly-effective business solutions via Facebook Bot development. If you're looking to engage your customers with personalized, value-adding content, Facebook Chat Bots may be just what your organization needs. We invite you to discover how Facebook Bots work with our comprehensive Facebook Messenger Bot Tutorial, below:
Facebook Messenger Bot Tutorial - Table of Contents
What is a Facebook Bot
How Facebook Bots Work
Benefits & Capabilities
Case Study Examples
How to Build a Facebook Bot
Resources
What is a Facebook Bot
A Facebook Messenger Bot is an innovative new chatbot platform which enhances business marketing, user experiences and customer service. Chatbots are a form of artificial intelligence (AI) that holds interactive conversations with customers. As the world's largest chat platform, Facebook Messenger Platform 2.2 and above incorporates "broadcast API, customer chat plugin, media template, and a bunch of awesome feature enhancements." From the user side of things, Facebook Chat Bots deliver chat-based automated responses designed to offer context-based information.
According to Fortune.com,
Facebook Messenger has over 900 million monthly active users worldwide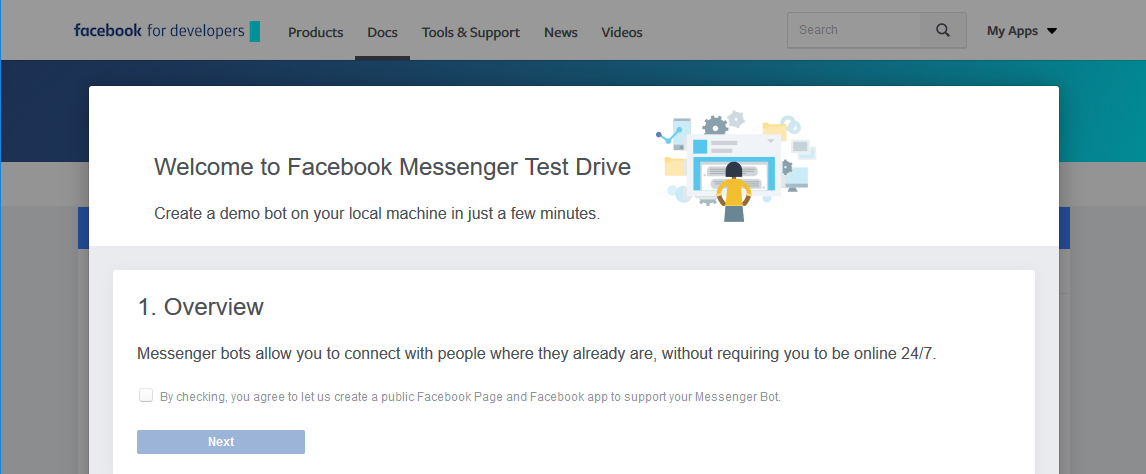 How Facebook Bots Work
Facebook Bots work by recognizing specific trigger words and context-based data sets. For example, if a user asks what type of tulips are available using your Facebook Messenger Bot, the chatbot can automatically provide a list of related products. By prompting the user for additional information, such as color or size, the chatbot narrows down the information to provide customers with the most relevant information possible.
Benefits & Capabilities of Facebook Chat Bots
Facebook Chat Bots have taken the marketing world by storm. Organizations are finding new ways to integrate their current products, services and marketing strategies by developing their own personalized Facebook Messenger Bot. From basic support inquiries to streamlined sales, the possibilities are virtually endless. According to Entrepreneur.com, a Facebook Bot will eventually be able to understand how you're feeling.
Main Features
Here are a few of the most notable capabilities and benefits of Facebook Bots:
Deliver Personalized Experiences to Your Customers
Provide Answers to Frequently Asked Questions
Engage Your Customers with Interactive Conversations
Process Simple Sales Directly in the Messaging App
Develop Personalized Relationships with Users
Offer Automated Services without Leaving Messaging App
Case Study Examples
1-800-Flowers - This chatbot prompts users to choose a product category, place orders and provide contact information for the purpose of lead generation.
Domino's Pizza - Domino's Facebook Messenger Bot enables customers to place new or repeat orders and track delivery progress.
Whole Foods Market - The Whole Foods Market Facebook Bot provides recipe and meal planning information for potential customers.
Facebook Bots Provide a Platform for Emotional Marketing

How to Build a Facebook Bot
Develop a Working Webhook URL
Create a Facebook Page
Configure a Facebook App
Set Up a Facebook Messaging App
Generate a Facebook Page Access Token
Set Up a Working Webhook
Generate a Callback URL
Validate with a Verification Token
Configure Relevant Subscription Fields
Test the Facebook Bot
Customize the Facebook Bot's Behavior
Submit Your Facebook App for Review
Resources:
Hire Blennd to Develop Your Facebook Bot
Our professional Denver web design team works hard to make sure our clients stay ahead of the competition by leveraging the latest digital marketing trends, such as Facebook Chatbots. Do you have an idea for a great messenger bot for your company? We'll help you identify, develop and implement a Facebook Bot for your business. Request a quote for our digital marketing services today!