Building a Design and Branding Strategy
Even the strongest brands benefit from innovating their approach to messaging and communicating their value to customers. Often, clients come to us in need of fresh eyes on their brand to notice what is great about it. Our brand consulting services involve looking at their current performance, personality, appearance, and value to customers. According to McKinsey & Company,
"Brands draw their power from three sources: science (insights generation and performance measurement), art (creativity), and craft (management and execution). In times of rapid change, strong brands particularly need the benefits of these robust foundations: a deep understanding of customers and the market based on rigorously tested concepts, a clear purpose brought to life by creativity, and an inspiring brand experience delivered consistently across all touchpoints to drive both brand perception and business performance."
Most importantly, research through McKinsey & Company shows that powerful brands outperform the market – identifying that brand innovators grow their top line up to four percentage points faster than their competitors with a weaker brand marketing strategy. This is no coincidence because a well-defined design and branding strategy results in better digital experiences, stronger customer loyalty, and sustainable growth with increased conversions.
Brand Consulting Services
Using Insights to Inform a Brand Marketing Strategy
An updated brand requires strong insights to lead a brand marketing strategy. When providing brand consulting services, we start by identifying the successes and pain points of our client's current digital presence. By gathering a brand's vitals and understanding how users are interacting with a website, we can then create a user-focused rebuild that speaks directly to their needs. We implement tools like heat mapping and GA4, so clients not only have insights into their current state, but can also make more informed decisions post-launch on their new site. With the resources to assess how your messages are being received, your brand can always adapt, with the data to back up the next decision.
Design and Branding Strategy Sessions
At Blennd, strategy sessions are not limited to a couple of creative team members. It involves several members of the team who deep dive into a client's vitals and deliver unique perspectives on creative direction. McKinsey & Company defines these cross-functional team sessions as "Brand Management 2.0" – where teams, identified as "squads" -- come together and make highly collaborative decisions about brand strategy. This group buy-in and agile process results in more accurate and creative branding, where the best ideas quickly rise to the top and the end-product is spot-on.
Differentiating from Competitors
Looking at competitors is a valuable exercise in our discovery and branding sessions. It shows the voice that other companies are taking in your space, and highlights where there are opportunities to differentiate. It goes beyond the products and services that can be emphasized but also informs the personality and appearance of your brand. When constructing the brand pillars for clients, we consider what they do better than anyone else in their industry and harness those strengths in our messaging.
Defining Brand Pillars
The brand pillars are the words or phrases that set businesses apart. We do research and interview clients during the discovery phase of onboarding to get a strong understanding of what makes their brand special. The Blennd team then comes together and consolidates our findings, identifying the terms that best describe the client – along with supporting statements that dive into their importance. See the brand pillar defined for our client, Kiosk Information Systems below: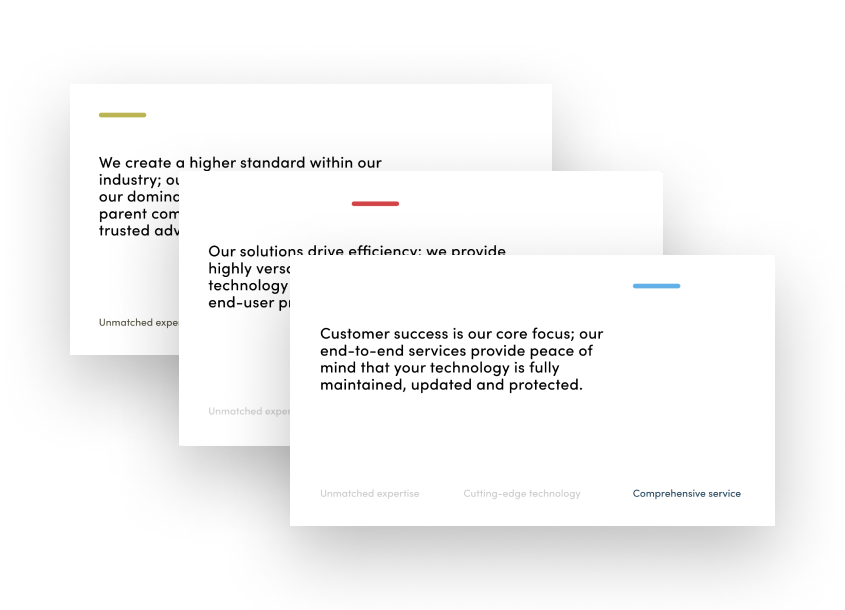 Finding a New Look
Of course, one of the most important elements of refreshing a brand is updating the look and digital experience. When building websites, our designers aren't just following trends, they're looking for opportunities to find something completely unique to your brand. That way, when people land on your site, it is completely unmistakable, attractive, and interactive.
User experience is at the forefront of decision-making – because with a strong UX build, a website can act as a marketing and lead generation machine – providing the insights and solutions your customers need when they are searching for your product or services. A brand refresh typically involves positioning oneself as innovative and modern, but without a fantastic user experience, this promise falls flat. See the website inspiration for Cain Travel below: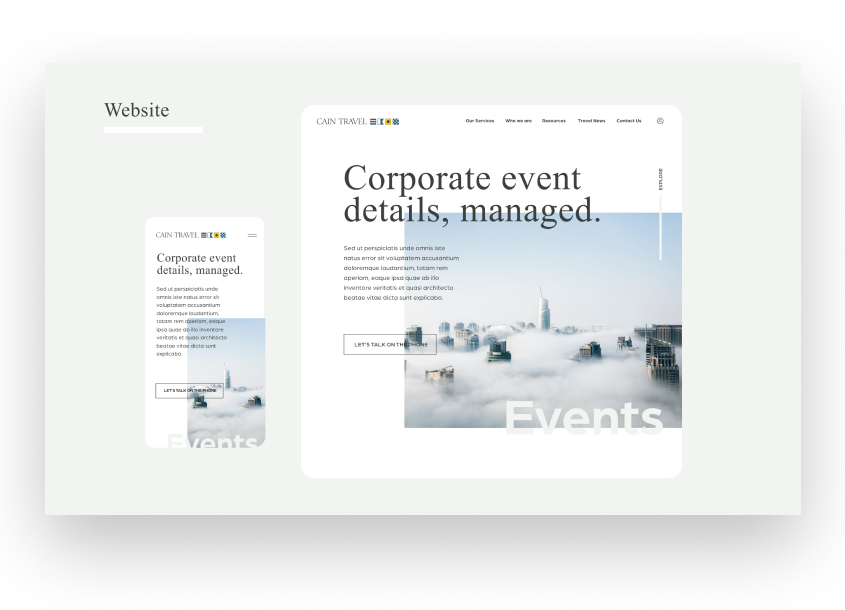 Building Unified Branding
One of the biggest mistakes a brand can make is not staying consistent in how they live, sound and look. That is where the guide acts as a tangible tool for companies. Having the tone of voice, vision – and style standards down to icons, fonts, and colors outlined means that anyone at a business can harness the personality of your brand.
One of the transformative brand marketing strategies Blennd developed was for Western Colorado University. Like many college websites, their digital presence was filled with thousands of outdated pages and had a confusing user experience. As an institution that was trying to attract a younger target audience, this setup was not leading to outstanding conversions. When approaching an update so massive – and with so many moving parts – the Blennd team decided to develop a design and branding strategy that defined exactly how Western would convey an authentic, unique, and unified brand.
It resulted in a comprehensive brand guide that outlined the content, design, and branding standards for Western – including image and video direction, headline templates and content guidelines, and a strong direction for anyone that touched the Western brand. This strategy was shared among faculty, stakeholders, marketing teams and other leaders within the institution, so anyone who was going to be representing Western knew what it meant to be a Mountaineer.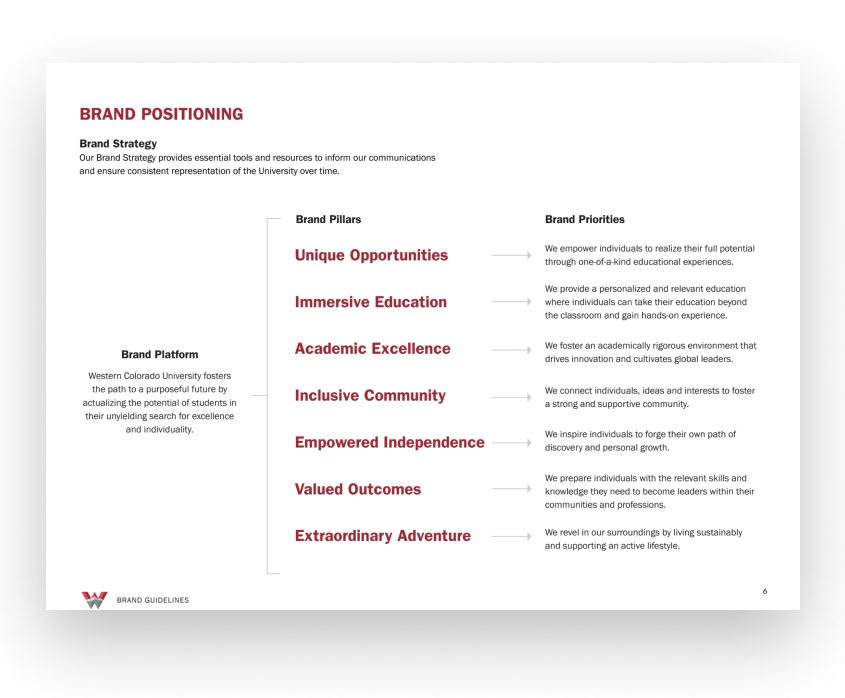 Leveling Up Writing Standards
Inconsistencies in brand content can appear unprofessional and unorganized. When building brand guides, we also make a point to add in writing standards that create consistency and clarity in the more technical aspects of content writing. This helps identify brands correctly across channels, keeps the target audience front-of-mind, and results in higher-quality copy.
Translating it Into Your Digital Presence
The brand marketing strategy process does not end at delivery. After a brand guide presentation with Blennd, clients can provide feedback and identify additional pieces to include. Once all brand elements are defined and approved, that brand marketing strategy becomes a guide for all the steps to come in the website building process. It, along with our digital website strategy, is referenced throughout the build for consistency and creative direction whenever a decision needs to be made.
Take Your Business to the Next Level with Brand Consulting Services
Does your business need a comprehensive brand marketing strategy to guide your digital presence? The Blennd team can help. Through our brand consulting services, we work with your team to develop a spot-on brand marketing strategy that provides a path for a stronger presence, increased conversions, and greater success.
---