/ Overview
Redefining Outdoor Living Through a Modern Brand and Engaging Website
Renaissance Patio, a leading company in outdoor patio covers and structures, needed a new brand identity and website that reflected their expertise and commitment to quality while attracting more customers. To achieve this, they engaged Blennd for an in-depth strategy to redefine their brand, messaging and website to create a new experience that would set them apart from the competition.
Their goal was simple: to create a brand and website that was not only visually stunning but also generated more leads. The Blennd team created a simple yet compelling brand identity including a unique color scheme, captivating design system, and engaging copy to create a website that truly embodied the Renaissance Patio brand.
Visit Website
/ Web Design System
Creating a Lasting Impression: Renaissance Patio's Modern Website Design System
Renaissance Patio's website design system was developed with the goal of creating a cohesive and harmonious brand experience for visitors to their website. The system incorporated a range of design elements, including a distinctive color palette, engaging imagery, and intuitive navigation, to create a website that was both visually appealing and easy to use.
The design system was carefully crafted to align with Renaissance Patio's overall branding strategy, ensuring that every aspect of the website was consistent with the company's values and messaging. This included the use of consistent typography, a clear visual hierarchy, and a focus on providing relevant and useful information to visitors.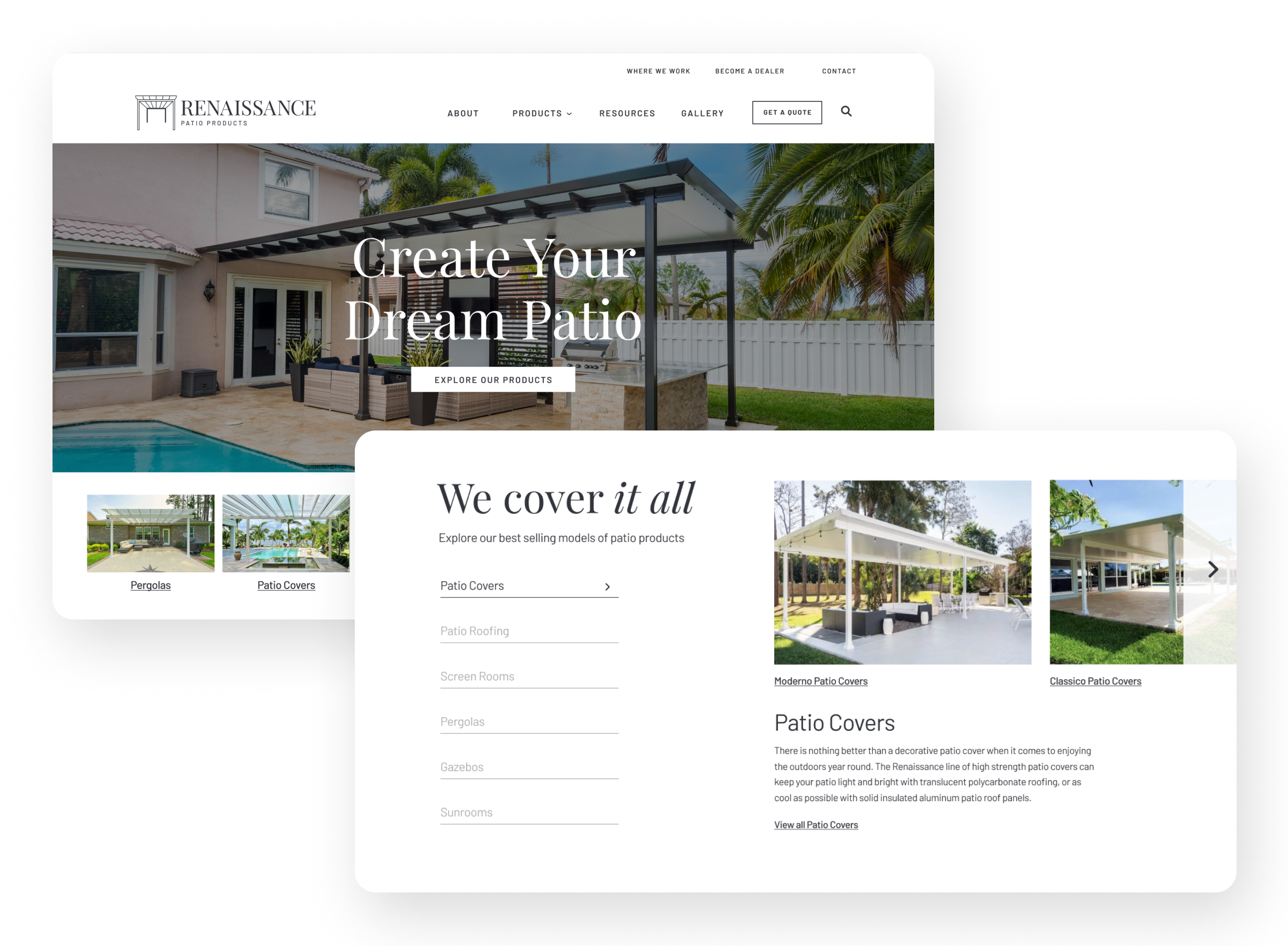 / Design
Combining Form and Function for an Exceptional User Experience
Renaissance Patio's website design was developed to increase user engagement and generate more leads. The design incorporated a range of elements, including engaging visuals, intuitive navigation, and conversion optimization techniques, to create a website that was not only visually appealing but also highly effective in generating leads.
The design was developed with the user in mind, with a focus on creating a seamless and enjoyable experience for visitors to the website. This included a clear layout that made it easy for visitors to find the information they needed, as well as visually appealing imagery that showcased the company's products and services.
The design also incorporated clear calls to action throughout the website, encouraging visitors to take action and request a quote. This included multi-step forms, floating CTA's, and other conversion optimization techniques designed to increase the number of leads generated from the website.