Today, digital marketing is a critical piece to nearly every business' growth strategy. Most modern leaders know that website design, advertising, and other media are key components to boosting your brand's visibility online. However, many continue to ignore that massive opportunity right on their search engine results page. In fact, according to Search Engine Journal, approximately 57% of small businesses had no strategy for search engine optimization (SEO) this year. The benefits of using an SEO company come down to boosting your organic visibility, improving brand perception, and building a platform for more qualified conversions right from search. Below, see why forward-thinking businesses are tapping into the benefits of SEO to get ahead.
Leveraging Benefits of Using an SEO Company
The benefits of using an SEO company come down to organic search traffic. What is this? Essentially, organic search traffic is the number of clicks that go to your website through search engines like Google and Bing. These search engines crawl every indexed website on the internet and identify content and pages that directly answer the questions and queries people type into their search bar. They then rank those resources on the search engine results page (SERP) based on relevance, keyword density, domain authority and a number of other factors.
The phrases people type in Google to find what they need are tracked and categorized into keywords. For example, the U.S. population may search the keyword, "IT services" 1800 times in a single month. That data point (number of searches per-month) is considered the keyword volume. The goal of SEO services is to optimize websites to speak to high volume, relevant, and conversion-focused keywords so your brand shows up at the very top when potential customers Google something related to your service or product.
What Do SEO Experts Do?
Knowing that, SEO may seem as simple as writing a lot of content that pertains to your industry. However there is a lot more that goes into these strategies. First of all, Google's algorithm and preferences change frequently. That means SEO best practices also have to evolve to meet the standards created by these tools. SEO expert services continuously research and optimize to meet the needs of today's algorithm. On top of that, there are endless opportunities for optimization on the back end of your website. Factors like loading speed, structured data, and analytics tracking can make a massive difference when it comes to building a holistic SEO strategy.
Blennd is a Denver SEO agency that creates custom, comprehensive SEO strategies for businesses across industries to outrank competitors on search engines. Our wide ranging industry experience, onsite website development expertise, and industry-leading search engine insight allows us to enhance your domain's authority across the board.
Benefits of SEO
So what are the benefits of SEO for your business? Discover the elements of search engine optimization that may be missing in your current growth strategy below.
Performance Tracking
Performance tracking is key to understanding your business' growth and pain points. While many businesses use Universal Analytics (UA) on their platform, there are several other tracking considerations. First, UA is on its way out – soon to be replaced completely by Google Analytics 4. The latest GA4 features shed light on a number of game changing insights for your digital marketing. As part of Blennd's Denver SEO services, clients get GA4 setup and a complete SEO report every month that highlights their organic search traffic, conversion analytics, target keyword performance, and other KPIs that inform next-steps.
SERP Positioning
Search engine results pages are always in-flux. As new content gets published, different articles, pages, and websites compete against one another to get on page one. However, research is key to ranking for the appropriate keywords that your audience types into search engines. When Blennd's SEO team begins working with a new client, we start with an in-depth discovery. We work with your team's subject matter experts to uncover details about your products and services. We dive into your target audiences, what they care about, and their key selling points and pain points. Then, we jump into our research and identify what those audiences really search on Google when looking for products and services you offer. Finally, we optimize and create pages that leverage SEO best practices to outperform the current high-ranking websites for those terms. See the results we achieved for our client, Charter Jet One below: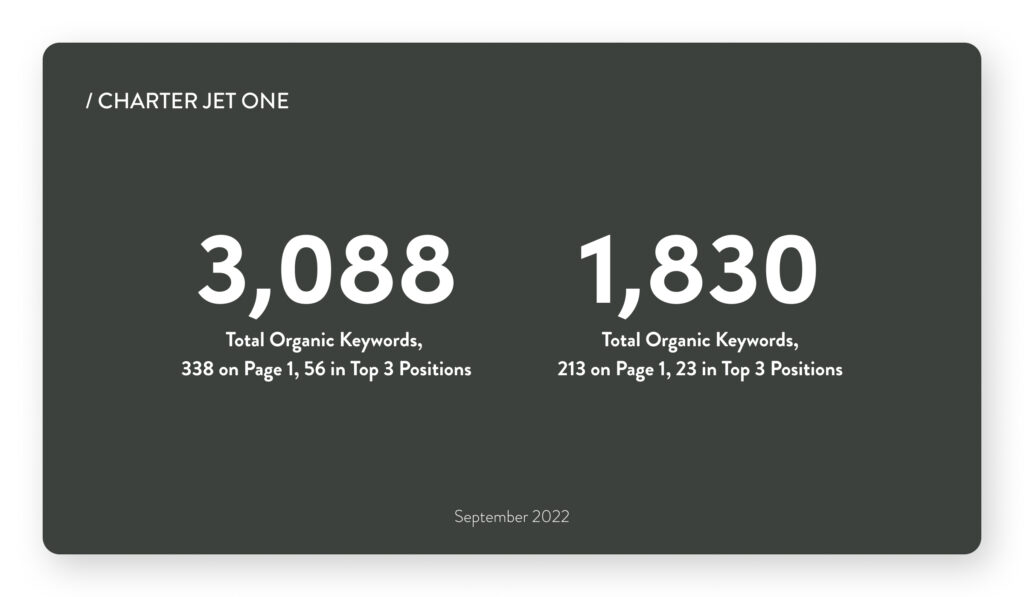 Competitive Data
So, how do you outperform those other brands ranking for your desired keywords? Blennd uses competitive data (both direct and organic) to create our target keyword lists and to build out our content. As part of our target keyword research, we pull all the organic keywords your competitors currently rank for. We then use that information (and our own target keyword research) to build and assign keywords to your site's pages. When we write and optimize content, we always consider what's performing well right now – then we take what we learn and make it better so your brand gets ahead.
Qualified Traffic
What keywords does your website currently rank for? Chances are, if you don't do SEO, the keywords you rank for are not conversion focused. So, what are conversion-focused keywords? Here's an example. An IT company that updates its blog somewhat regularly may rank for a number of keywords that relate to the industry. For example, if they publish a great article about the importance of strong passwords, they may rank on page one for a keyword like "benefits of strong passwords." At the end of the day, it's always good to have high ranking content that relates to your industry – it builds topic authority and boosts traffic. However, are people who search, "benefits of strong passwords" actually looking to sign up for cybersecurity IT services?
Chances are, they're not. Blennd's SEO team prioritizes keywords that target audiences type when they are ready to buy. Using the right keywords for the right audience brings in more qualified leads who are more likely to engage with your products and services once they land on your page.
Brand Credibility and Visibility
Consciously or subconsciously, we tend to trust the websites that rank on the first page of Google above others when we search for services. When you walk down the grocery aisle, your favorite brands are probably front and center – right at eye level – and their position on that shelf provides some credibility to their quality. It's because those brands have built up the authority to dominate that space. Search engines are similar to the store's purchasing manager. They see what people buy (click and engage with), and prioritize that on the shelf (search engine results page). Now, we know some brands pay for high visibility spots on the shelf and on the page (like Google Ads), but organic search optimization is the equivalent to earning that spot because your consumers keep coming back to that product. In a world where more and more businesses are moving almost entirely online for lead generation, this positioning is invaluable. See the boost in impressions, qualified users, and sessions achieved for our client, Edison Interactive below: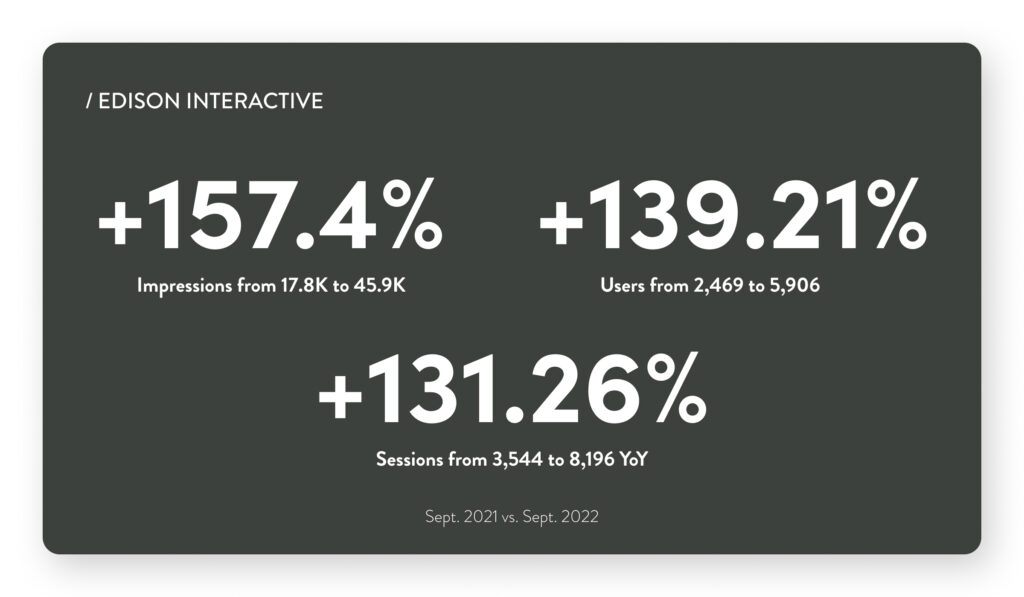 Consistent Content
Even for businesses with large marketing teams, getting blog content on the website can feel like pulling teeth. Other tasks tend to take precedence and months can go by without an update. This not only makes your blogroll appear stagnant, but can also hurt rankings. Adding new content to a website increases the frequency at which search engines crawl your platform. The more frequently they see you publish high-quality content, the more authority your domain earns over time. A major benefit of using an SEO company is that they add new, relevant content to your platform on a consistent basis so search engines prioritize your site.
Listings Management
Where else on the internet can people find your brand? Business listings and industry-specific online listings are a great way to check all the boxes and increase your visibility. Blennd is a Yext Certified Partner, which means with our SEO services, you gain access to our shared network of over 200 third-party publishers to push your business' data and services to. One of the first things we set up for new clients is their listings, so people can start finding your brand immediately through these resources. This also creates more valuable backlinks to your site.
Backlink Maintenance
Backlinking is one of the more well-known SEO benefits that plays a major role in building a domain's authority. If another high-quality website links to your site as an authority, that indicates to Google that you are doing something right. This can ultimately lead to better SEO performance overall if you can build up a strong backlinking strategy. Beyond the local listings backlinks we build, Blennd also manages toxic backlinks. Toxic backlinks can have the opposite impact on your site authority over time, which is why we run regular audits to identify any sites that shouldn't link to your platform. Tons of spam-like sites create toxic backlinks that may have nothing to do with your industry or services. We go in and disavow those sites, which indicates to search engines that those backlinks should not be considered in your authority or ranking.
Website Maintenance
If your website is slow to load, outdated, or has a poor user experience, it's probably going to struggle with organic search performance. Website usability can directly impact your search ranking because when people can't use your site properly, they will not stay on long. Leaving a website before engaging is considered a "bounce". A high bounce rate indicates to search engines that your page or site does not provide the information searchers are looking for, and in turn penalizes your ranking. A major benefit to working with Blennd is access to our team of killer web developers. As part of our WordPress website maintenance services, we can keep your website running smoothly with necessary plugin updates, new page building, performance optimization, and other critical aspects of your tech. That way, a slow loading page will never take a lead away from your site.
Goal Optimization
When someone engages with a page, fills out a form, calls your business phone number, or completes any other goal, does your team track it? If so, are you gathering the most relevant and impactful information? Goal optimization starts with an in-depth look at your business' goals and creates custom tracking metrics and goal-focused pages so you get the most accurate analytics. Blennd has deep experience in Google Analytics 4 event management – as well as HubSpot expertise. Our team can help you build a solid strategy to optimize your goals. Typically, we create custom recommendations based on your user journey. That way, we can measure the impact specific pages and messages have on your audience to make improvements. With that information, you can also keep track of how your SEO and marketing efforts pay off each month.
Local Optimization
Whether you have one business location, or one hundred business locations, local optimization makes an impact. Local optimization strategies target specific regions (from global to hyperlocal) through Google My Business setup, location-specific content, local listing management, and more. If your business is in a phase of expansion, there is massive potential to bring in more business through organic search. While this may seem specific to brick and mortar locations, we can also create location-based SEO campaigns for fully-remote businesses. One of the major SEO benefits is the ability to dramatically expand your business' digital footprint without ever building a new office. See the results achieved with qualified local traffic for our client, Eisenstein Law below: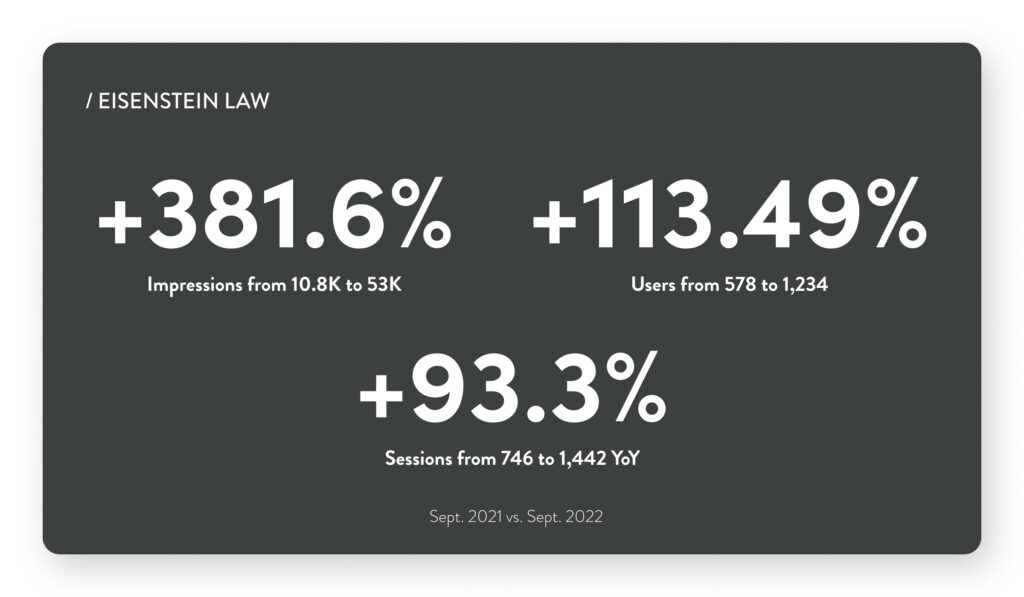 Google Maps Integration
Ever notice when you type in a product or service on Google, you often get a list of local providers? That's the power of Google Maps integration. Over the years, Google Maps has become so much more than a navigation system. It's where people go to find recommendations for businesses and services near them. Google Maps integrates with Google My Business, which means potential customers can click on your business profile, visit your website, read reviews, and compare you to competitors in the area right from their app (or on desktop). If your brand does not leverage Google Maps, you are likely missing out on a lot of valuable local leads. One of the major benefits of SEO services like Blennd is we set up, optimize, and track engagement on Google Maps so you can bring in more traffic through this valuable tool.
Return on Investment
All of these benefits of SEO add up to a lot of added value to businesses. At the end of the day, organic search must be a part of any modern business' growth strategy, because it directly relates to how modern consumers find new products and services. Investing in an SEO agency enables your business to outrank your competitors where it matters most – in the digital space. Getting more qualified leads on your platform directly leads to more people filling out forms, calling your business, or purchasing your products. Getting that kind of visibility quickly pays for itself.
Experience Benefits of SEO for Your Brand
Ready to see the benefits of SEO for your brand? Blennd builds comprehensive, data-driven, and brand-focused SEO strategies designed to get your business seen by more qualified leads. Through our discovery and custom monthly initiatives, we create a path to grow your platform and bring in more sales.
Uncover Benefits of Using an SEO Company Today
Contact the Blennd team today to get started. Blennd is a Denver web design and digital marketing agency that specializes in SEO for businesses across industries. Our expertise in digital strategy, design, tech and traffic enable us to create holistic solutions that speak to your audience and bring in more leads. Get in touch with our brand strategy agency today to get started.