Overview
With the announcement of the new tool, the Blennd team began researching whether GA4 would be an advantageous update for clients. Ultimately, we are highly recommending that all of our clients integrate the new Google Analytics 4. Its cutting-edge features and AI tracking are the future of information gathering for businesses – so getting started now will begin the process of gaining new, valuable and eventually historical data within the reporting tool.

Adapting to a Cookie-Free World
GA4 is rolling out at the beginning of a new era of online data collection. Over the last year, we have been adapting our clients' marketing tools to make way for a cookie-free world. With the new iOS 14 update, Apple users are presented with new prompts on webpages, asking if websites can track their data with cookies. Historically, people had to go out of their way to opt out of tracking, but now they have more power than ever before. Learn how to prepare your marketing for the Apple iOS 14 update.
Over the next few years, business' access to third party data on customers will continue to diminish. In response, marketing teams will have to build new conversion strategies to adapt to an internet without cookies. Since this shift began, the Blennd team has refined strategies and reporting to prepare for the future of business insights. Meanwhile, online tracking tools will need to work around the decrease in third-party data. Luckily, the new GA4 features are designed to do just that.
Benefits of Google Analytics 4 Features
One of the ways in which the Blennd team uses technology to drive business for clients is through GA reporting. During the discovery process, clients are typically looking to grow their online impact, so one of the first steps is analyzing their current GA data. This gives us a look at what they're doing right, what needs work and what needs to be added, redesigned or integrated to take their business to the next level.
Nearly every website we build includes Google Analytics integration, so there is an ongoing data resource on their growth. With the new GA4 setup, some of the classic Google Analytics features are updated or improved, while others are completely new and designed to boost business' tracking capabilities. Below are some features that we predict will be beneficial to clients moving forward.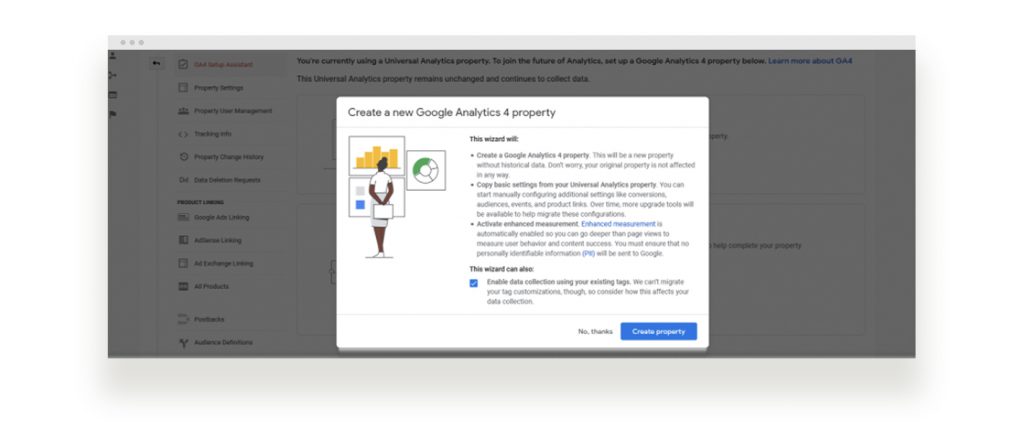 ---
Getting Started with GA4: Google Analytics 4 Features
Cross-Device User Journeys
Studying user journeys in Google Analytics 4 is a completely different experience for businesses. With cross-device reporting capabilities, they will have a much more detailed look into their customer experience across platforms. Whether they are visiting on a mobile device, computer or tablet, you will be aware of how users are interacting with your brand and be able to strategize accordingly.
Using AI to Predict User Outcomes
One of the new features only available on GA4 is the artificial intelligence predictions. This takes a look at target segments, and makes informed assumptions about their likelihood for purchase, churn, and even provides details on the potential revenue that specific customer segments could produce for the business. It makes planning your next move that much easier, providing data that lets you know what to focus on, and what audiences will respond to your online presence. It will be a helpful tool for knowing where to invest your business' time, energy and resources to get the best return.
According to the Google Blog,
"It has machine learning at its core to automatically surface helpful insights and gives you a complete understanding of your customers across devices and platforms. It's privacy-centric by design, so you can rely on Analytics even as industry changes like restrictions on cookies and identifiers create gaps in your data."
Aggregated Data Streams
Google Data Streams are another example of Google responding to fragmented data collection. Data streams are designed to consolidate properties for websites, apps, etc. With UA, these properties had to remain separate, but data streams bring them together to create a roll-up property. They can be customized with up to 50 dimensions and 50 metrics, along with up to 25 registered user properties within a single property. This aggregated data is another tool to gain a zoomed-out view on cross-domain traffic. Data can still be broken down into individual streams, but this is an excellent view on overall audience engagement. It is a more holistic and robust way to track unique users across platforms.
Stronger Conversion Insights
Google typically referred to conversions as "goals" on Universal Analytics. Now, goals are just considered "conversions". With GA4, conversion insights are about to become much more detailed and customer-centric. For example, you can actually uncover where customers first discover or interact with your business. Features like this mean that lead generation strategies will have more background and backup. Seeing the steps that actually lead to conversion can even empower companies to optimize their platforms' user journeys. It essentially provides tools that make success more likely and more tangible through better research.
Redefining the "Event"
Previously, UA would track events as specific actions (like form fills and clicks) to give businesses a window to their user. It provided more siloed capabilities and made tracking numerous promotions pretty difficult and time consuming. Now, all of those measurements have been turned into "events" on GA4. With everything labeled as an "event", all of that information will be included in your reports. That means that tracking specific metrics in your promotions is going to be much easier. Businesses will be able to take those insights and adapt their content to earn more conversions and loyalty.
According to Google,
"The data you see in your Google Analytics 4 reports comes from events that are triggered as users interact with your website and/or app. For example, a page view event is triggered each time a user views a page on your website. The All events report shows how many times page view and other events were triggered."
---
Types of Events to Know About
Event building is one of the most game-changing Google Analytics 4 features. So, it is important to differentiate the types of events you'll be able to create, track and receive reports on from your digital presence. Google breaks them down into:
Automatically Collected Events
Automatically collected events are received from the global site tag – there is no need to set up this event on the back end -- it is triggered by basic interactions with your platforms. These should appear on your report with no action from your business' end.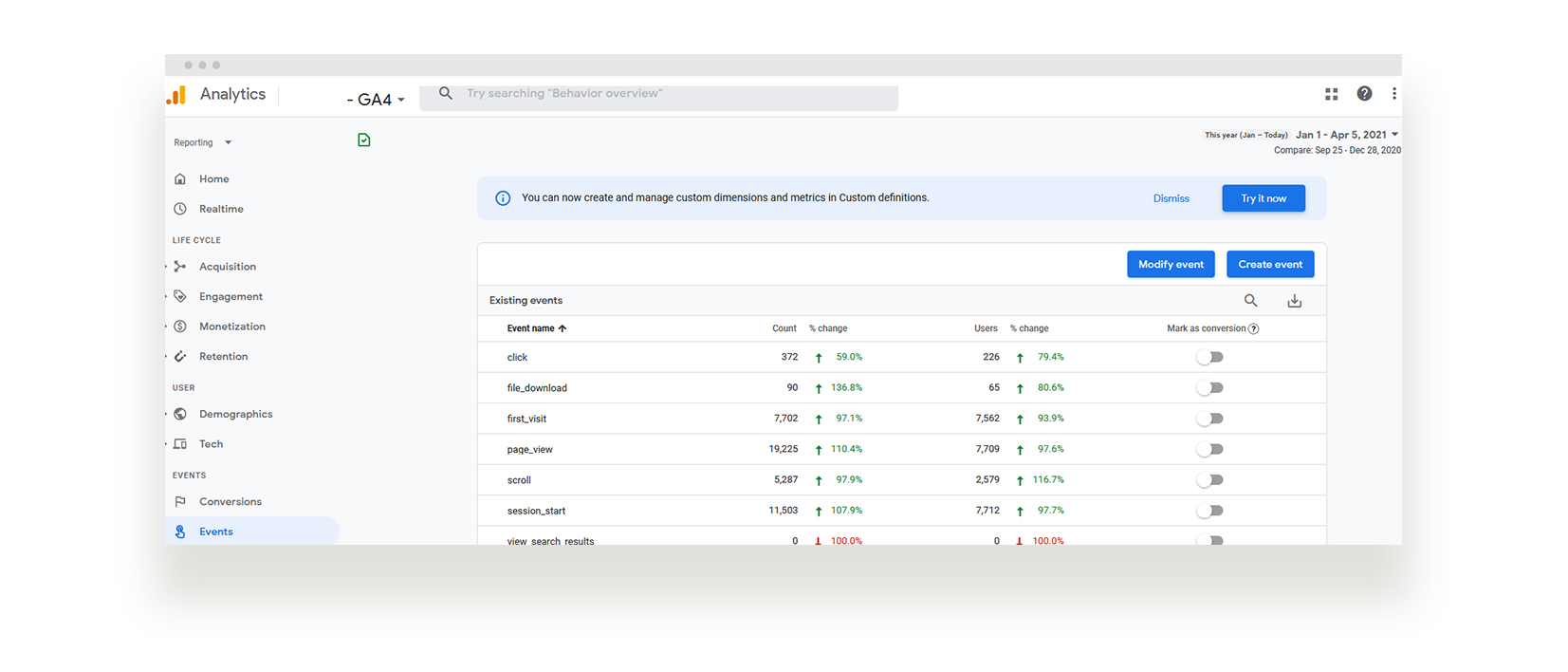 Recommended Events
Recommended events account for the most common scenarios in data collection. Businesses will be able to set up several different types of specific tracking, but Google recommends building events for websites, apps, ecommerce, education, games and a lot more. This allows companies to dive into the common actions that occur on their site and gain more information on how users are interacting with the tools you provide.
Custom Events
Every site is a bit different, and there are some events that will pertain to only your business. However, before setting up a custom event, be sure that what you're looking for isn't found in the recommended events. If not, simply create your own event triggered by whatever your business needs to track on your digital platform.
Adapting Your Tags
While UA did work with tags, there have been some exciting updates with GA4. New tools allow you to easily tag events through Google Tag Manager. This feature is a user-friendly tool that provides more valuable information from events through tracking. Once you know what information to collect, a GA4 configuration tag needs to be added to the pages. This includes a trigger that sends data to GA when an action is taken. Once that is done, the tag fires data to Google Analytics to build a report on that page.
Cross-Domain Tracking
Cross-domain tracking is another step toward richer first-party data on your consumers. If your business has multiple website domains tracked under Google Analytics 4, the tool will transfer first-party cookies from one domain to another – allowing your tracking to pick up on one user moving across domains. This includes actions like YouTube video views, or organic channels like social, email, and Google Search. It provides a much more comprehensive view of your visitors' user journey and will play a huge role in strategy-building for businesses that utilize multiple domains.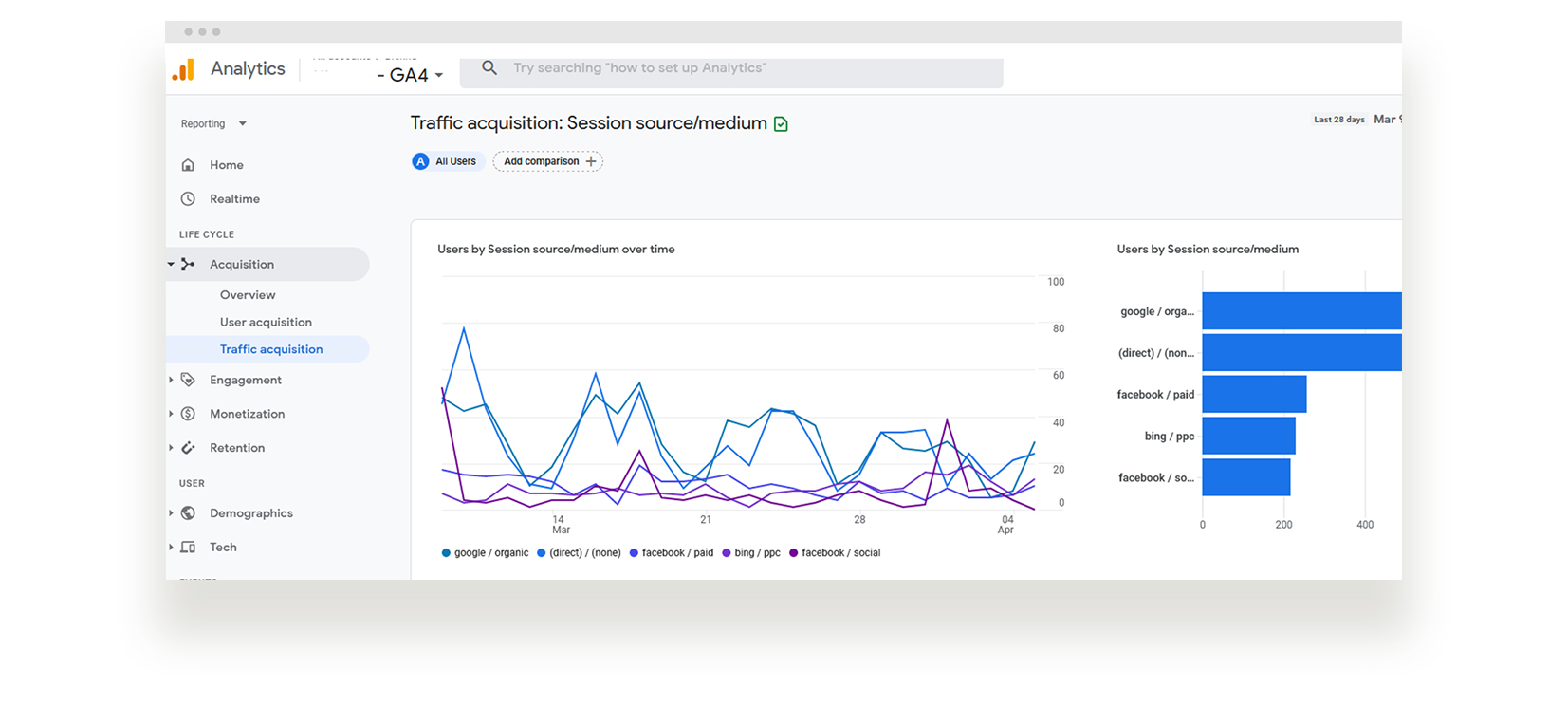 Transform Your Reports
These changes and additions will have a massive impact on your business' reporting capabilities. The new features are designed to use first party data to get richer insights and provide more detailed user journeys. Businesses that get started with Google Analytics 4 features will continue to get their Universal Analytics data, but also begin to receive even more information about their platforms and the actions taken by users and potential consumers. The organization of reporting has also been optimized to be more user-friendly and customizable.
According to the Google Blog,
"We simplified and re-organized reporting so you can intuitively find marketing insights based on the part of the customer journey you're interested in. For example, you can see what channels are driving new customers in the user acquisition report, then use the engagement and retention reports to understand the actions these customers take, and whether they stick around, after converting."
---
Level-up Your Marketing
Up-to-date marketers are jumping at the chance to get these new insights and integrations on top of their current tracking. For example, more comprehensive integration with Google Ads allows marketers to create more relevant and conversion-boosting experiences. Being able to add up app, web and other interactions, providing a holistic look at the combined impact of your marketing. Plus, having increasingly accurate and detailed historical data moving forward will make long-term planning and strategizing more effective.
Introducing GA4 to Your Existing UA Tracking
The best part about integrating GA4 into your business' tracking is that there is very little risk involved. In fact, we highly recommend that our clients continue tracking through Universal Analytics, so their UA data remains consistent. When Google Analytics 4 features are added through the Setup Assistant, we create a new property that continues to collect data along with the existing UA property. The original tool will continue to be accessible on the property selector or Admin screen. By running GA4 alongside UA, you keep all of the historical data your business has collected, while simultaneously gathering new, more detailed data. The setup gives businesses the best of both worlds, and essentially provides a massive upgrade to your existing tracking.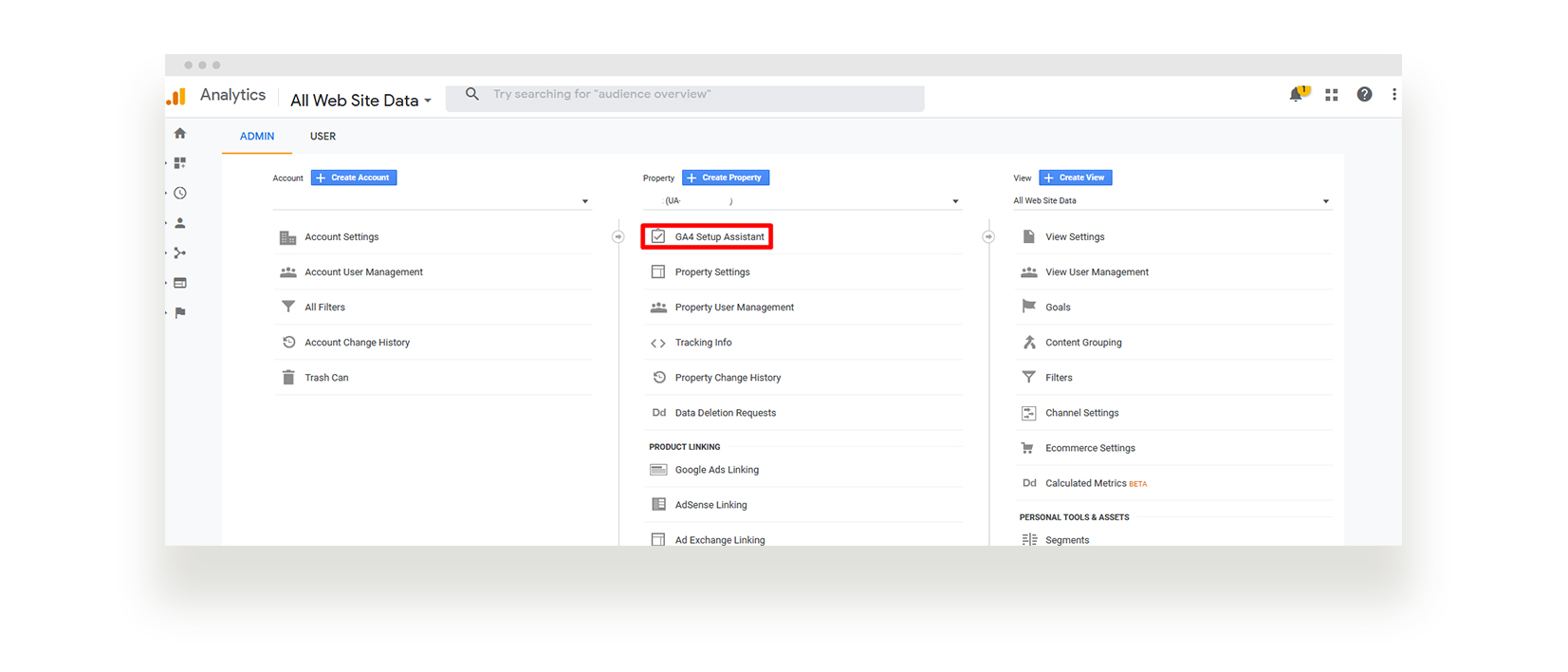 Why Businesses Should Take the First Step Now
Universal Analytics will definitely be around for years to come -- but over time the new standard will become GA4. It has smarter capabilities and more detailed tracking, so it will likely change the game when It comes to gathering insights about users. Getting started now begins the process of collecting historical data only found on Google Analytics 4. That means that as others lag behind on updates, your business will be gathering a rich history of data that will be extremely useful for strategies down the line.
Eventually, Universal Analytics will likely be removed by Google to encourage the use of the newer, more relevant technology. Beginning the process now will get you and your employees equipped to use these new features for nearly all of their tracking in the future. Once we set up GA4 for businesses, we recommend familiarizing yourself with the new data and reporting features. As always, the Blennd team is here to help throughout the education and implementation process of this new technology.
Get Ahead with New Google Analytics 4 Features for Business
At Blennd, we have been preparing clients for this technology shift with research, feasibility reviews and more. By doing the work now we keep our clients ahead, so they are equipped for a cookie-free world, have access to the latest resources and have an edge on competitors. We do the legwork so they can keep their digital presence up-to-date and thriving.
---
Does your business need to get ahead of technology changes? The Blennd team can help.
Contact Blennd
today to schedule a consultation.