/ Overview
Bustang (CDOT): Creating a User-Friendly Transport Website Design and Digital Platform
When Bustang, a dependable and reliable transit service in Colorado, sought to create an optimized user experience on their website to ensure customers could easily access and navigate maps, routes and fares, they entrusted Blennd to carry out the project. With a focus on enhancing the service's user-friendliness, we took on the challenge of revamping the website's design, strategy and functionality. Our vision was to reflect Bustang's core mission of getting Coloradans where they need to go, efficiently, affordably, and on time.
Visit Website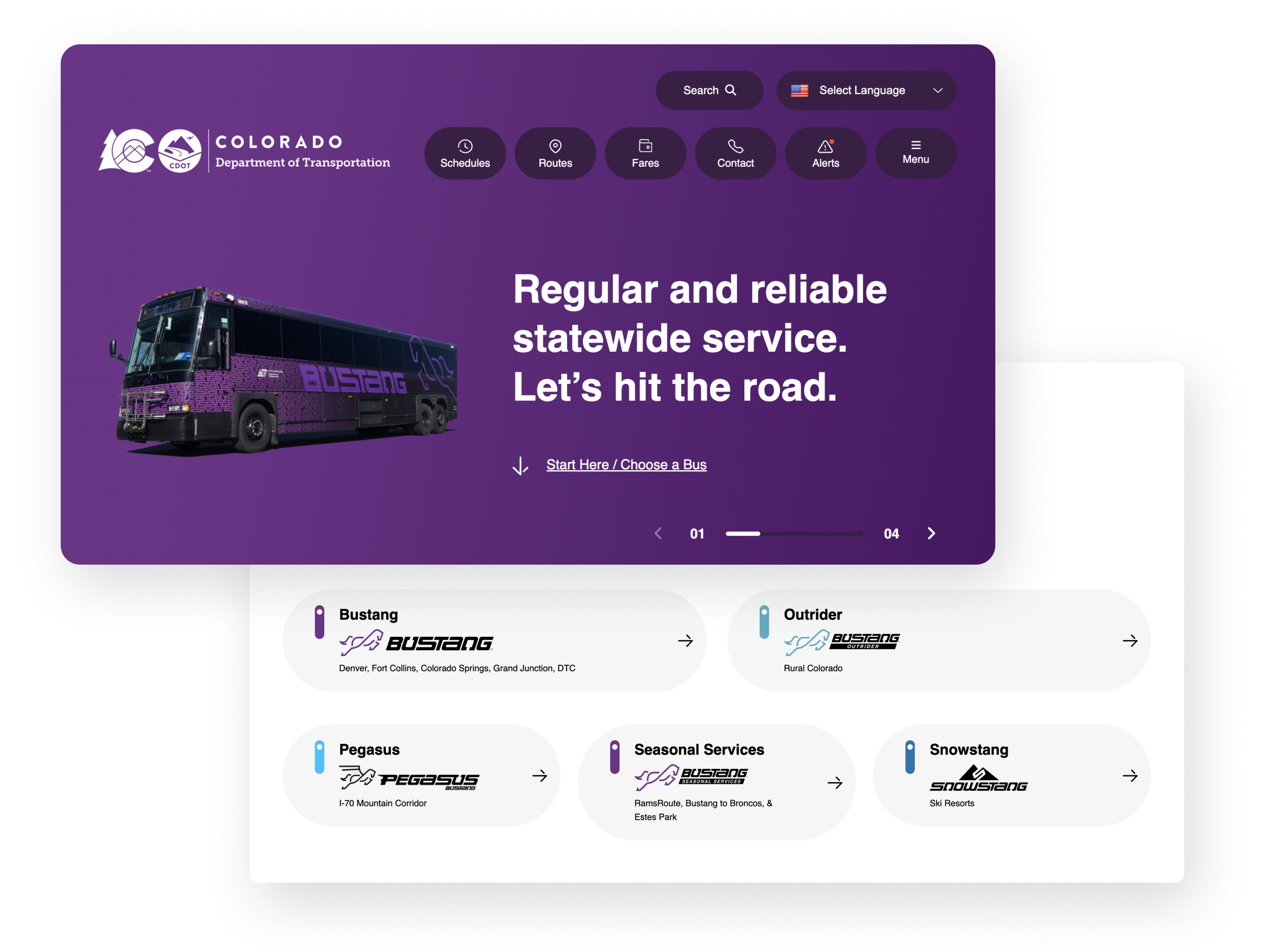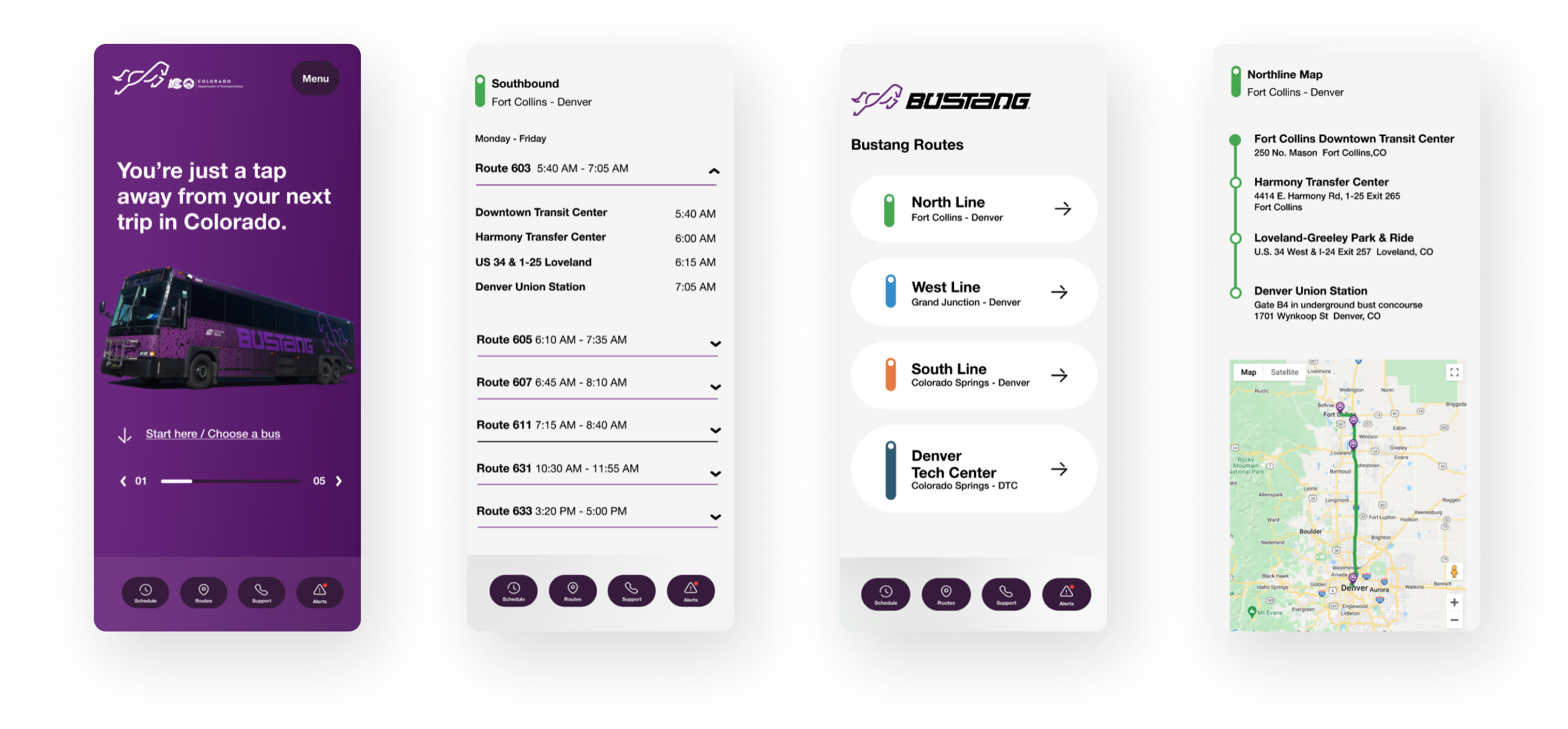 / Maps & Routes
Reimagining Bustang's Maps and Routes for a User-Friendly Journey
In the digital landscape, visual communication is key, particularly for a transit service like Bustang where the understanding of routes and locations is crucial. As part of the tranport web design overhaul, we took a deep dive into enhancing the map and route interfaces on Bustang's website.
We recognized that users needed a seamless way to view and understand their journey, so we placed a strong emphasis on developing clear, interactive maps that are both intuitive and detailed. In parallel, we overhauled the route information presentation to make it more comprehensive yet straightforward. We consolidated information about schedules, stops, and fare information into individual route pages. This way, users can find all the information they need about a particular route in one place, reducing the need to navigate through multiple pages.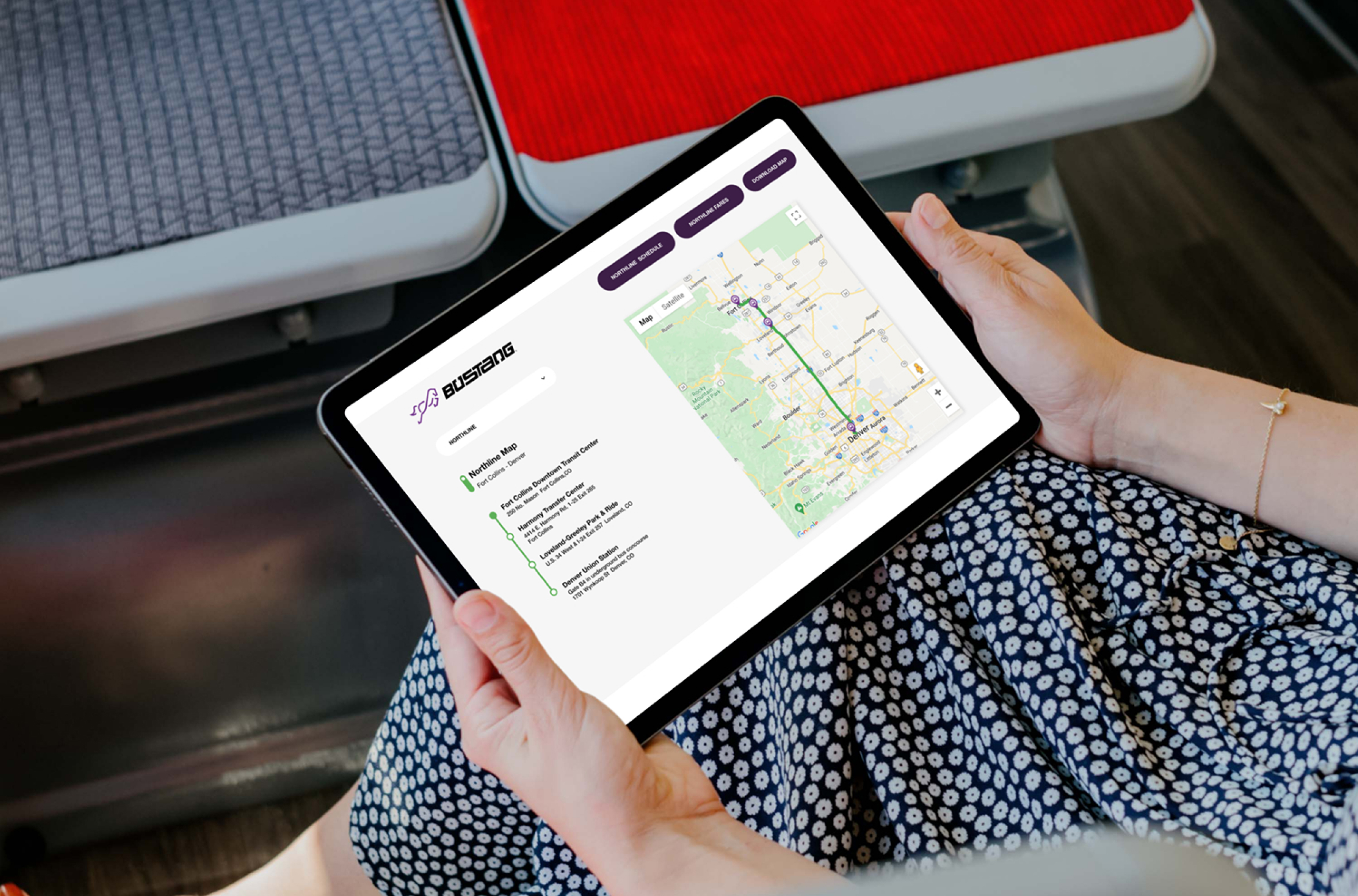 / Strategy
Strategic Vision: Shaping the Future of Bustang's Digital Experience
Our strategy aimed to highlight Bustang's continuous growth and expanding services. A thorough analysis revealed a problem with the current website, characterized by redundancy and a less straightforward mobile interface. We set out to tackle these issues and optimize the website, keeping in mind that their ultimate goal is to outperform competitors by offering a cleaner, more accessible online platform that provides users with the information they need.
/ Design
Simplicity and Functionality: Designing an Intuitive System for Bustang's Users
To address the most important concerns—namely schedules, routes, maps, fares, and tickets—we organized a series of design components that would simplify the user experience across the website. We considered the potential to consolidate some of these aspects on the same page, with an aim to reduce redundancy and enhance the user journey. Taking inspiration from competitors like RTD, MTA, and Transit for London, we designed a system that prioritized simplicity, accessibility, and ease of use. Bustang's new transport website design hinged on a streamlined navigation system, integrating all critical sections into an intuitive layout.
/ Development
Harnessing Technology for Better Transit: Bustang's Website Development
We aimed for a development approach that could handle the diverse needs of Bustang's operations. The service alerts, disruptions, and ticketing systems each had unique requirements that needed careful attention. We identified Twitter as the primary medium for smaller delay notifications, while larger disruptions were addressed through a strategically placed banner on the website. The ticketing system was redesigned for ease of access to Outrider and Bustang's apps and Justride sites. The updated WordPress site now provides easy content updates, making it a more dynamic platform.
Blennd's strategy, design, and development overhaul for Bustang has paved the way for an enhanced user experience, marked by reduced redundancy and a more accessible, user-friendly interface. The new design system has made it easier for users to access critical information, which in turn has successfully advanced Bustang's mission, offering an online platform as efficient and reliable as their road service.