At Blennd, we specialize in data-driven website development with a strong foundation in strategy. User testing feedback from our clients' target audiences becomes a valuable dataset for our planning and implementation processes.
What is UX User Testing?
UX user testing is a process that leverages individuals within a business' target audience to attempt tasks on an interface and provide direct feedback on their experience. Conducted either pre-launch to ensure a product's functionality, or post-launch to optimize features and confirm proper goal completion, user testing can transform the capabilities of a platform to better serve customers and increase profit. According to Invision,
"Placing what you're building in front of users' eyes early and often during the design process means you can validate experiences before handing-off. Testing often allows you and your team to go from idea to final design, confident that you're addressing a real problem with an effective solution."
Leveraging a UX User Testing Company
Agile brands move rapidly to keep up with the technology expectations of audiences, but agility has to be paired with strategy to avoid missteps. The planning, preparation, and implementation of UX user testing can be a big undertaking, which is why many businesses work with UX user testing companies. Blennd develops comprehensive user testing strategies to optimize our web development clients' platforms and tech products. For clients who require testing, we handle the research with your audience members through detailed interviews and surveys. We then do the work of synthesizing the data and implementing those recommendations into a highly effective platform that better serves customers.
"I find that doing one-on-one sessions has been the most effective, it's very pointed and you're not only seeing what their experience is, but you're also seeing their facial expression and body language. It shows immediately when they're confused, or if there's something lagging for them or just not completely clear. That's when I can say, 'where do you feel like you're stuck?'" – Brian Brooks, Sr. UI/UX Designer at Blennd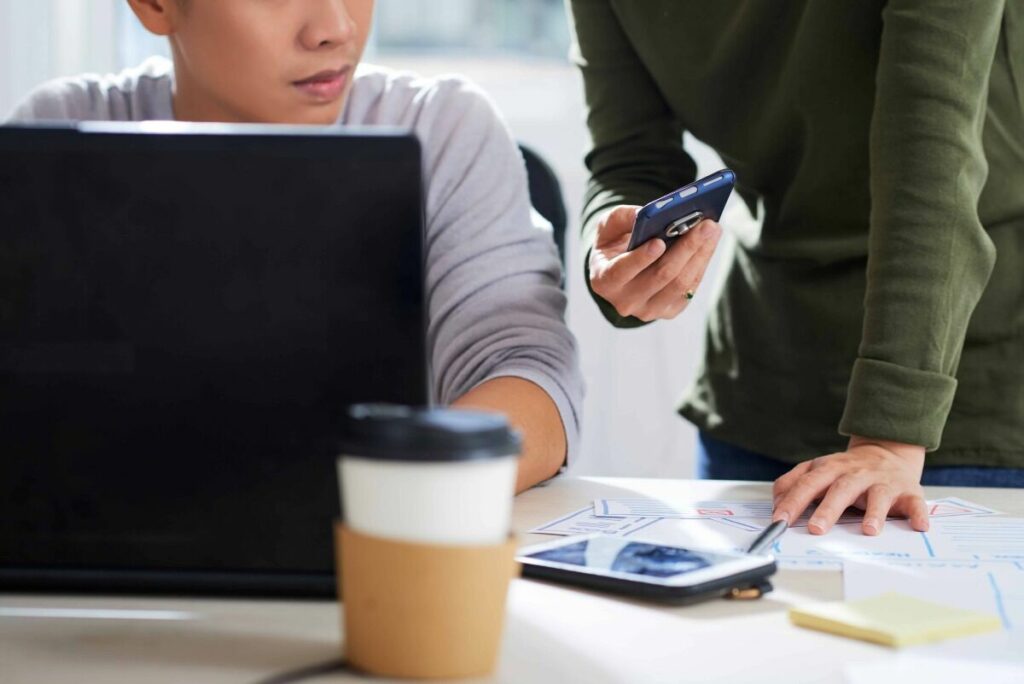 Gathering the Right Information for Better Outcomes
The key to getting meaningful responses from audiences is to set clear objectives – and all questions should reflect those objectives. One of the most important elements of building a UX user testing strategy is ensuring that you ask the right questions in the clearest manner possible. This creates the most useful insights, which answer a direct question and provide a path to fixing the issue. According to Think with Google,
"Are you aiming to improve a specific metric, or explain something in your data? Perhaps you're interested in a particular audience segment, or want to ramp up your conversion rates. Having a specific challenge focuses the research and helps you prioritize different testing options to find the best solution."
For our client, DiningOut Passbook, Blennd ran user testing interviews with their target audience members to optimize their newly-released application. We incentivized people with a free DiningOut Passbook and scheduled one-on-one interviews with indviduals who aligned with their personas. Blennd team members recorded the session and also recorded the users' phone screens to get accurate data on their actual interactions with the app.
Throughout the session, we asked them to complete tasks like, "Can you find the nearest restaurant to your current location?" or, "Can you find a sushi restaurant nearby?" The participant was encouraged to verbally elaborate on their experience, explaining where they got confused or didn't know the next step. The Blennd team documented their feedback and delivered a report to the app developers with recommendations to make user-focused improvements. See a breakdown of our UX user testing strategy below:
UX User Testing Company Strategy
| | |
| --- | --- |
| 1. Set goals, objectives and/or tasks for each persona. | What do you want each person/user to achieve (i.e. sign up, contact admissions, find info, etc.)? Give clear instructions (i.e. Can you find out how to schedule a visit?). |
| 2. Recruit 2-3 individuals from each persona if applicable. | Offer a reward for helping (gift card, venmo cash, etc.).Ask clients to help find people. |
| 3. Perform a 1 hour, recorded in-person (remote) testing session with each persona. | Allow each person to verbally walk through their experiences. Guide them through the following questions once tasks are complete: What works? What doesn't work? What is annoying to them? What do they like? What is missing? What are some suggestions? |
| 4. Analyze feedback and collect data. | Provide a presentation of all feedback data (explain what works, what doesn't work, what is missing, what needs to be changed, how many clicks it took, etc.). |
| 5. Redesign pages, components, navigation, etc. | Using combined feedback and data, we create a new, optimized prototype. Redefine and redesign wireframes and user flow if needed. |
| 6. Test again (loop). | |
Ensuring it Gets Completed
UX user testing companies are also responsible for constructing an experience that successfully gets complete, honest feedback from people within the right target audience. With any customer feedback collection, there is potential for participant drop-off, which impacts the data quality. Those conducting research typically create a plan to provide incentives for participants that encourage completion. However, incentives will not compensate for a poorly-built user test. You must design an experience that is highly effective, efficient, and intelligible to get meaningful results.
This comes down to writing tasks that leave no room for confusion. Audience members must have a explicit understanding of their assignment. Otherwise, it's unclear whether a negative result came from a user experience error or simply a poorly written instruction. The value of your users' time must also be a huge consideration. Ask the questions you need and move on. A drawn-out, haphazard user test leads to audience drop-off, which results in half-baked insights. Ultimately, the solution is to put some real intention behind UX user testing to get truly informative, comprehensive feedback.
Understanding an Audience
Your platform should be designed to serve your target audiences so they can accomplish goals and convert. That is why knowing your unique personas is an important element of user testing. While your targets may be a "type, " there is a ton of variance within those segments – and that's a good thing. People within a persona should come from a variety of backgrounds with a lot of different experiences. This can provide additional insights that were not considered at the onset of the project. For example, identifying areas on the site that may not be ADA compliant, or branding that may not speak to the diversity of people who actually use your products. Finding the right people to participate can be the key to thorough, successful feedback.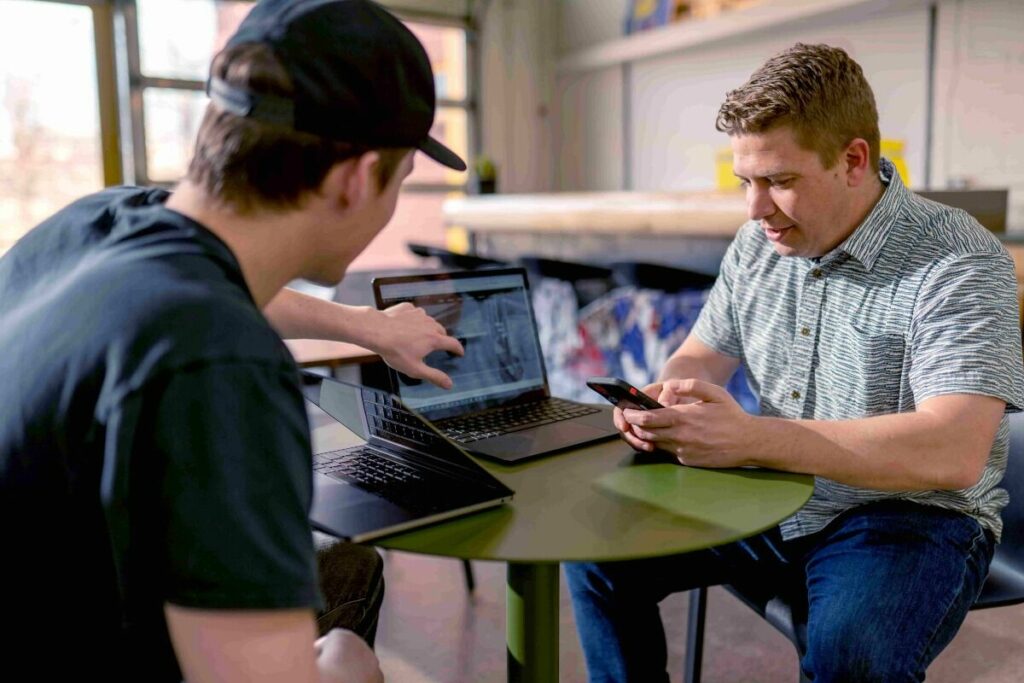 Designing an Ideal User Path
User flows are one of the key components to Blennd's design and branding strategies. Once we have an understanding of a client's needs, we can start to map out a path to conversion on their new platform. Part of that process is identifying the roadblocks on the current website. At the beginning of a project, the Blennd team drops a heatmapping tool on your website. Over time, this tool gathers information about where users linger, what CTAs they click, and what features they ignore altogether. This can uncover a lot of insight into what is and is not working. This is especially important for eCommerce sites, which rely solely on their user experience to bring in business. According to Think with Google,
"One of the biggest problems brands face, particularly in retail and travel, is product discovery. Users have developed preferred, familiar methods to navigate large product categories, and anything that hinders this can cause people to struggle. Having the right navigation and filtering systems are absolutely crucial. Just a few tweaks can make a world of difference."
While your team is completely aware of where products live and where to find them, that might not be the case for your customers. Getting an honest outside perspective can transform the way you look at your platform and the accessibility of your services. Clients may find that products are difficult to hone in on, the branding is not effective in representing what you do, or the content is not informative enough to bring the user to sale. When looking at a site experience critically, even audiences that aren't tech savvy know when things are not working in an effective manner.
Making More Informed Decisions for Improved ROI
Ultimately, UX user testing strategies are another tool in your arsenal to improve customer experience and grow your business' capabilities. Implementing processes like user testing can vastly improve return on investment, because it proactively irons out any issues your audience may face while interacting with your brand. This experience should be one of the primary priorities for your team, because those details can be the difference between a sale and a bounce.
"Testing is a never ending loop because websites are a living organism. They change so much and evolve so much. Because we look at them all-day everyday, it's not about what we think 'looks cool' anymore, it's really about how users interact with it. Testing allows us to sit in the backseat and let the users drive." – Brian Brooks, Sr. UI/UX Designer at Blennd
Work with a Strategy-First User Testing Company
If your business could benefit from the insights and resources provided by a website design and UX user testing company, Blennd can help. We are a digital strategy agency that designs, develops, and optimizes world-class platforms for technology companies. Schedule a consultation today to get started with your user testing strategy through UX-focused website design services.