What is Digital Brand Strategy?
What is digital brand strategy? Digital brand strategy is a data-backed blueprint to reimagine your business' online identity. It begins with a complete audit of your current platforms and branding. Then, we start uncovering solutions – building on your brand's existing strengths and identifying the ideal options to solve the issues. The benefit of strategy-first? Every element is thoroughly planned out at the onset to set the stage for better outcomes. It's a high-value, low friction process that reduces scoping issues, ensures compatibility between teams, and empowers tangible, actionable delivery.
Elements of Digital Branding Strategy
Objective and Goals
The first all-hands meeting with your team is the discovery. During this session, we listen to your business' pain points, and discuss how to leverage our expertise to resolve them. The information gathered from your team's subject matter experts is then used to build clear objectives for the digital brand strategy. We take this information and jump into the research to achieve those goals and build additional recommendations to take your platform to the next level.
Customer Journey
At the start of a strategy-first project, one of the first things we identify is the audience. We take those general profiles and translate them into detailed personas. Who are these people, and what are their demographics? What are the desired actions we want to them to take? What are their key selling points? With that information, we can construct a customer journey map that identifies their touchpoints and key performance indicators (KPIs) for each phase of purchase, as well as strategic solutions for every step.
Identifying personas was a key step for our client, LPR Construction. As one of the leading construction and steel erection companies in the United States, they had a solid client acquisition strategy. That's why the primary personas on their new site were actually ironworkers for hire, so they could continue to staff big projects. This came to light through our discovery and strategy sessions. To accommodate this, the Blennd team built and presented a strategy that draws more people within this demographic to the site and provides them with tools to succeed when they land. Namely, those features were Spanish language translation, a strong content focus on safety and benefits, and a complete portfolio that displays the exciting projects they build. See LPR's primary persona breakdown below: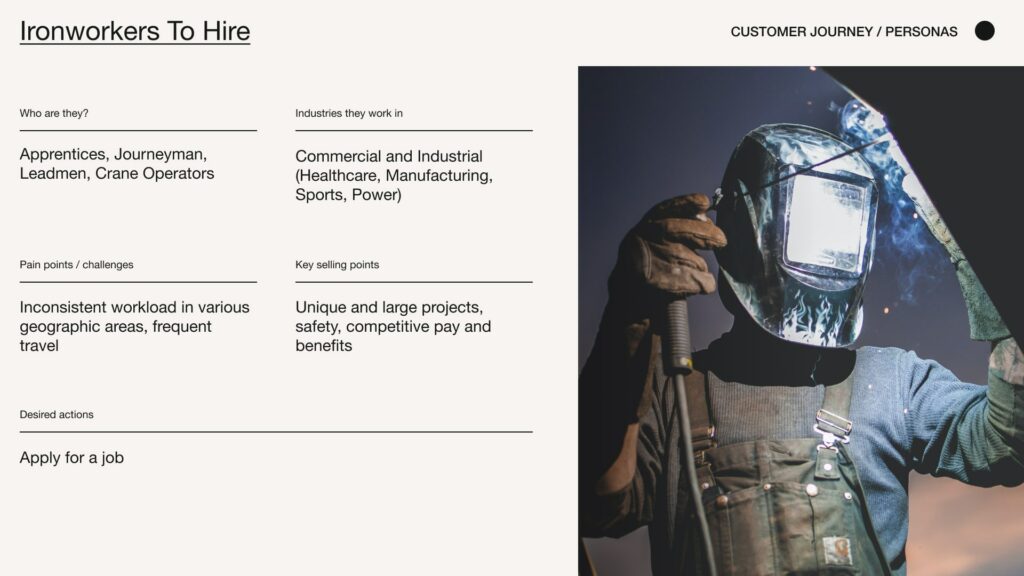 UX Recommendations
Looking at Google Analytics 4 data, the Blennd team uncovers patterns in your current platform's traffic and conversions. We also drop a heatmapping tool to see what parts of the site people are drawn to, and what they ignore. With that information, combined with research into your industry, we can begin to build a user experience that speaks to your audience and provides a platform for growth. These user experience recommendations can relate to navigation, service buckets, imagery, and content direction. We also present a strategy to organize any orphaned pages, outdated information, or external domains to ensure quality content is easy to find and traffic leads to the right place to improve your site's value to users (and authority to search engines).
Design
One of the most exciting parts of the strategy-first presentation is the design elements. Blennd's website designers take what we learn about your business and begin to build a modern and highly functional look for your digital presence. It starts with a design system, where we audit the current brand colors and ensure they are completely ADA (Americans with Disabilities Act) compliant.
Many businesses remain unaware that their color pallet does not meet ADA standards, leaving content difficult to view for individuals who are visually impaired. These standards get incorporated throughout the strategy, ensuring the proper tech and traffic practices also align with ADA to accommodate a wide range of audiences. A color refresh also introduces a more modern pallet that brings your digital brand to the next level.
Additional Assets
Other elements of the design strategy include updated fonts, buttons, and icons. Many clients also approach our creative team for support with various other elements, like an updated logo that aligns with the new branding. Blennd almost always encourages clients to invest in updated assets to elevate the site's visuals. Authentic photos of your team, facilities, and products provide a real look into your business' culture and value – which can really set you apart from competitors. For service-oriented businesses, we also often recommend a video shoot to capture your team in-action. See our proposed asset plan for our client, AMICUS Chemical Solutions below: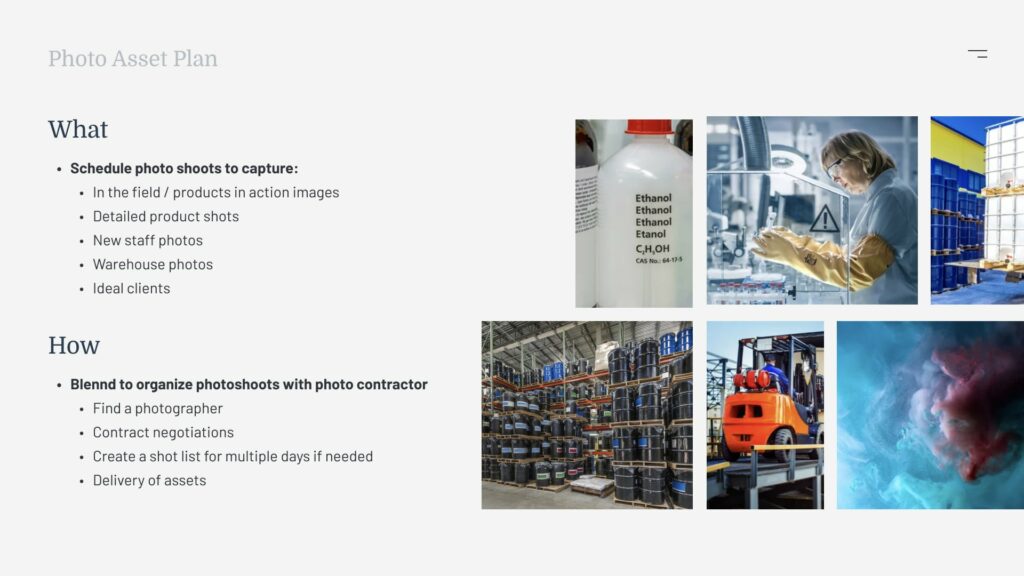 Sample Website Designs
In the strategy-first presentation, the Blennd team also presents a sample website design that brings together all the new design elements into one interactive page. This gives clients the opportunity to actually view and scroll through their new design concept and try on our vision for your future platform. This tangible deliverable ensures that your team has a full understanding of what we want to accomplish in the project ahead, from design elements to UX layout, and beyond.
Content and Messaging
The content strategy looks at your personas, goals, business culture, and services and translates them into a unique voice for your messaging. Brand personality recommendations give a human feel to the copy, with a clearly defined tone your business can take on when communicating through writing. The issue most businesses face? Inconsistency. Many brands rely on multiple contributors to provide content on different channels -- and these people often do not have predetermined guidelines on how to shape copy.
Our writing style guide provides a clear set of rules every person who writes for your brand can follow to create a concise, consistent voice. Finally, we deliver creative headlines and content samples that take on your new brand voice and provide a clear example for how to phrase and structure copy. These rules also align with our SEO best practices, to ensure the content you create ranks higher in search engines.
Tech
Outdated technology is one of the most common issues we come across with new clients, because it's one of the more complex aspects of a website to maintain. Staying up to date on the latest web development standards is typically not a high priority for the average business. Unfortunately, this negligence leaves your digital assets vulnerable to cybersecurity and user experience issues. Our tech strategy process begins with a complete audit of your current CMS. We identify the strengths in your current setup and the major functionality, technology, and security issues that need to be addressed.
Development Recommendations
Our team remains at the cutting edge of the latest, most efficient, and most secure technology for website development. Blennd's strategic recommendations for hosting, staging, plugins, and partnerships are backed up by extensive research and hands-on experience with these tools and their representatives. Ultimately, the solutions we present are designed to improve the architecture, speed, security, accessibility, and lead generation capabilities of the website. It creates a foundation for a future-forward platform that's robust and easy to maintain or grow.
Traffic
The traffic strategy begins with a comprehensive dive into your business' current traffic performance. We look at your organic data and deliver a complete report that outlines organic traffic numbers, how the site acquires visits, keyword performance, SEO site health score, and more. From the paid media side of performance, our team looks at your analytics and determines how people interact with the site, and whether those interactions result in conversions. All this data is then translated into strategic SEO and paid media recommendations to optimize your site's performance and lead more people to the platform to engage with your brand.
SEO
The SEO team provides several deliverables to show your site's current performance and set the stage for optimizations. First, our target keyword research uncovers the search terms your audience types into Google when looking for services. We give your team an entire book of keywords that, when strategically implemented, can boost your ranking and get your sight in front of the right people.
Then we run a competitive analysis, looking at what your competitors do right, what keywords they use, and how they implement them -- so we can create a plan to outrank their pages. Next, our conversion tracking recommendations provide a path to monitoring goal completion among your personas with the latest technology. Finally, we provide optimized website copy, with keywords and SEO best practices that align with your digital branding strategy. Ultimately, we uncover top opportunities to rank organically and take your site to the next level.
Paid Media
After looking at your site's visitor performance and behavior, the paid media team provides recommendations to get more qualified leads to your site. Depending on your business' needs, we deliver a turnkey plan to implement social media ads, retargeting ads, and other cost-effective media buys that engage your customers and build awareness. For clients within competitive markets, we provide analysis of their competitor's advertising and recommend strategic buys, ad copy, and offers to outperform. See an example of our retargeting strategy for our client, Renaissance Patio Products below: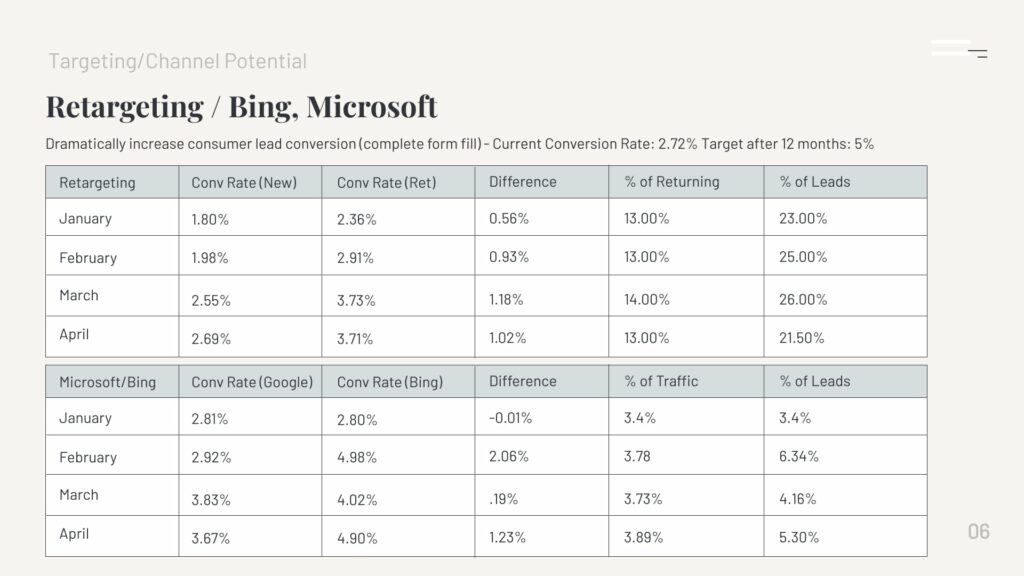 Next Steps: Implementing the Digital Brand Strategy
Once the strategy has been presented, along with a proposed timeline and budget, your team can review our work internally before jumping in. Ultimately, we design the entire process to provide an invaluable amount of insight at the onset, so your team feels completely confident in our ability to execute. Once we get your buy-in on the digital branding strategy, we jump into designing the rest of the site and building out your new digital presence.
Let's Talk About Your Business' Digital Branding Strategy
Ready to start shaping your business' digital branding strategy? Blennd is a Denver web design agency that creates strategy-first digital experiences. Get in touch with our team today to discuss your business' needs and start uncovering solutions.