What is Google Beacon? This new technology is slowly transforming local search engine optimization and user data exchange. While Google Beacon technology may not directly affect your site's organic performance at this time, it's setting the foundation for the future of local SEO. At Blennd, we work hard to be the leaders in web design and digital marketing, and are always looking for new ways to place brands ahead of the competition both online and offline.
Blennd DOES NOT OFFER Google Beacon development or setup.
What is Google Beacon?
What is Google Beacon? Google Beacon is a technology that enables proximity-based triggers and actions in both the digital and physical world.  By utilizing existing Bluetooth low energy (BLE) hardware technology, beacons communicate with nearby smart devices. Devices enabled with what's known as "Eddystone" technology are capable of receiving and transmitting data to smartphones. The result is gaining updated details about your current physical environment.
According to Google Developers,
"Beacons are one-way transmitters that are used to mark important places and objects"

Project Beacon by Google
Project Beacon by Google was created to provide hyper-local proximity-based communications. The idea is that organizations and individuals can transmit and detect information being broadcasted from nearby devices. The Beacon project attempts to bridge the gap between the physical environment and the virtual one. While the project is still in its early stages, the technology holds some truly incredible potential.
Google Beacon Technology
Project Beacon by Google was developed using open source software licensing. As a result, third-party developers can build new applications and services surrounding the technology. The Google Beacon project addresses the location accuracy limitations imposed by global positioning system (GPS) regulations. While GPS is limited to a radius of 11 feet, beacons offer more precise proximity data through BLE-capable devices.
Bluetooth Low Energy Beacon
Formerly known as "Bluetooth Smart," and developed by Bluetooth Special Interest Group,  a Bluetooth Low Energy beacon (or BLE beacon) enables smartphones to perform actions through a wireless personal area network. This is accomplished using proximity data provided by BLE hardware transmitters. Bluetooth beacons are a sub-class of Bluetooth Low Energy devices.

Google Beacon Analytics
You can track the performance of your beacons just like you do with search engine optimization, paid advertising, and website conversions. If you're spending valuable time and money developing a beacon for your business, you're going to want to track results.
Do you need help with Google Analytics? Contact our development and brand strategy agency for assistance.
Beacon Types
Google sorts beacons into three general categories, which we're abbreviating as "Receiving," "Interacting," and "Integrating."
Receiving
A 'Receiving' beacon can be configured once and then managed through the cloud.  The beacon accesses messages that are stored in the cloud with or without your own app. The solution involves adding attachments to your beacons. It uses what Google calls "Nearby Messages" and "Nearby Notifications."
Interacting
A 'Interacting' beacon specifically interacts with what's known as the "physical web." The most common solution involves broadcasting a link to a web page using Eddystone-URL frames which can then be read by Chrome and Nearby Notifications.
Integrating
A 'Integrating' beacon requires you to register it with Google. The Google Beacon Registry is accessible via the Beacon Tools app on Android and iOS. Doing so unlocks extra location data, such as latitude, longitude and floor level, via Google Places ID / API.
Need help configuring Google Places? Get in touch with Blennd today!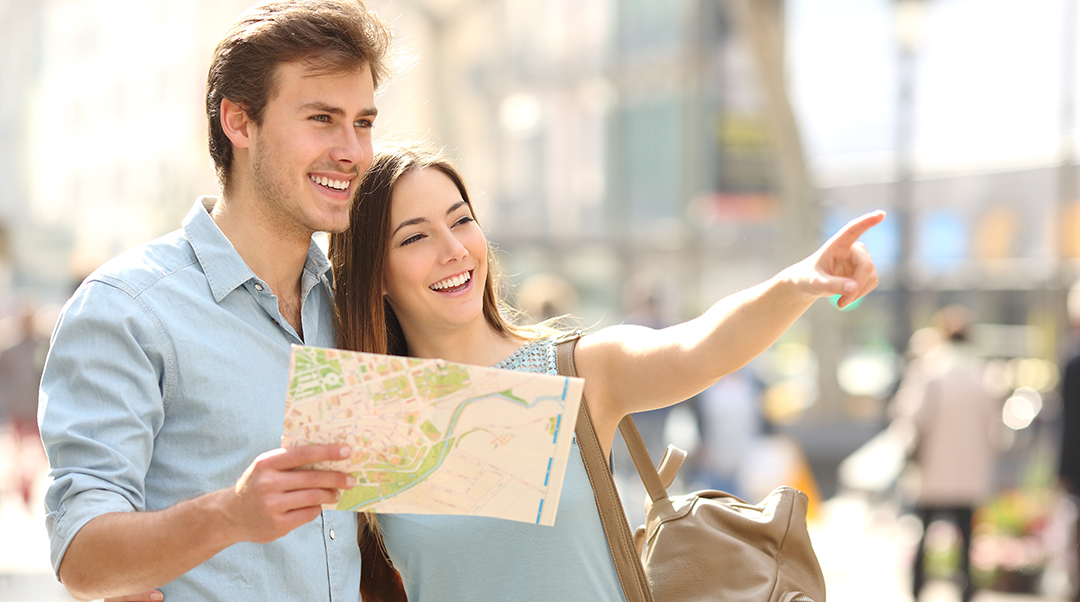 Local SEO
While Google beacons do not directly affect SEO, the technology does have an indirect effect on brand visibility.
Scenario: A well-reviewed pizza shop leverages local SEO strategies to attract business when someone in the neighborhood searches Google for "pizza" on their smart device. The shop has trouble attracting enough foot traffic as its storefront faces an alley with limited visibility.
Solution: If the shop set up a beacon to broadcast specials and linked to its Google My Business listing, potential customers located nearby could discover the business via messages or notifications.
Resource: Need help with Google My Business? Blennd can help! Ask us about our SEO services to learn how to get your business listed on Google.
Potential Sales and SEO Benefits of Beacons
Lead Generation
Does your organization receive a lot of foot traffic? If you serve customers at your place of business, it may be beneficial to broadcast a beacon with a newsletter signup link.
Reputation Management
Encourage users to leave a review using Google Beacon messages or notifications. After someone has been at your location for a set amount of time, prompt them to submit feedback. Reputation management is a valuable resource to improving your local search visibility.
User-Generated Content
Visitors to your business can have the option to upload photos, videos and descriptions of you products, services or storefront. This kind of user-generated content enhances SEO strategies and customer engagement.
Engagement Signals
The more engaged users are with your business, website and services, the higher Google will value your pages. Engagement signals are among the most important ranking factors for search engine results pages (SERPs).
Hyper-Local Targeting
Google beacon technology enables businessess to target potential customers on a hyper-local level. This presents huge opportunities for local advertising campaigns while significantly shifting  the landscape of digital marketing.
Dynamic Information
Are you running a special today-only? Stores can advertise deals and promos through a Google beacon broadcast to encourage nearby customers to purchase additional items.
Upcoming Events
A concert venue typically posts, emails or hands-out flyers of upcoming events. With a beacons, the venue could send its customers a list of upcoming events directly to their smartphone.
Want to integrate Google beacon into your website or SEO strategy? Contact us today!
Privacy Requirements
According to Google Developers, you must:
Comply with all relevant privacy laws and regulations when handling user information.
Provide users with (and follow) a privacy policy explaining what user information you collect and how you use it.
Honor user requests to delete their data.
Carefully review the Terms of Service before using the Proximity Beacon API, and other terms of service which may apply to your use of other Google APIs, for example the Nearby Messages API.
The Near Future
Developers are flooding the market with new BLE beacon hardware, software and cloud services. We can expect to see some big players marketing new technology solutions to consumers.
While beacons currently require an Android or iOS device to detect Eddystone frames, we don't expect this to last very long. Soon there will be many different types of smart devices broadcasting and receiving data from beacons.
We can expect to see more integrations with Bluetooth technologies, such as Bluetooth Mesh networking.
Stay Ahead of the Curve with Blennd
At Blennd, we provide a wide-range of services to businesses all over the world, such as local search engine marketing, web design and SEO services. We deliver top-notch services to clients interested in out-performing their competition. We stay ahead of the curve by researching, testing and implementing the latest digital marketing trends. If you're ready to get started, contact Blennd today.
Google Beacon Project Updates – August 2022
UPDATE: The Google beacon platform was shut down on April 1, 2021. 
New technologies frequently debut in the marketing sector before silently disappearing for a while. One such technology that recently had to step back from the spotlight is the Google Beacon.
The truth is, before Google's beacon technology could be extensively used, it needed time to evolve and a number of integration problems to be solved. With its own development platform designed to address these exact issues, Google opted to take the lead in the fixes, and a lot of work has reportedly been achieved in the interim. Unfortunately, word of when Google Beacon will officially reappear is still unknown. Instead, businesses should look to create their own APIs, or opt for an alternative, such as Proximity Marketing.
While Google Beacon may no longer be around, the Beacon market continues to grow, and advanced communication technologies are becoming increasingly more popular.
Proximity Marketing: The New Alternative to Google Beacon
Proximity Marketing, also known as 'hyperlocal marketing', works very similar to the Google Beacon project, just with different API settings/options.
Traditional store owners and business owners have been in touch with their clients at key times for decades, but proximity marketing as a concept was just presented to marketers in 2008. Due to this, companies and brands started sending location-based text messages to mobile devices that were close to Bluetooth networks and had the "discoverable" Bluetooth mode turned on.
Many different technologies are used to carry out proximity marketing initiatives in 2022. Each technology offers a unique set of benefits and drawbacks. The most widely used proximity marketing technologies in today's market include:
QR codes
WiFi
NFC
Geofencing
RFID
BLE beacons
These various proximity marketing technologies operate differently and can become potentially overwhelming. Assistance from an experienced digital strategy agency can ensure you integrate these items into your marketing strategies correctly and efficiently. Since there's more than one type of beacon available to you. It is possible to transmit highly focused messages to every individual in the region as they walk from one spot to another with a network of beacons installed within a single city, metro system, shopping center, or single store.
Disclaimer: This article was updated in August 2022. Google Beacon was discontinued in April 2021. For the latest insights on other marketing tools that accomplish similar goals, click here.
Resources
References
Blennd DOES NOT OFFER Google Beacon development or setup.