Target's Ecommerce Website Redesign: Background
Before 2016, Target's website only supplemented the brand's in-person experience. It displayed products and acted as a digital option that got the job done but didn't align with the exciting storefront experience. For years, this worked fine -- until the site saw a massive data breach in 2013, exposing the personal information of their customers and causing a 40% decrease in profits the following quarter. The retailer's leadership scrambled to pick up the pieces from this huge brand blow. It immediately became clear that Target needed an ecommerce website redesign that harnessed a solid omnichannel ecommerce strategy to bring back that lost revenue – and rebuild the trust of their audience.
Building an Omnichannel Ecommerce Strategy
What did an omnichannel ecommerce strategy look like for the national retailer? Essentially, they needed to maintain the beloved storefront experience, but create a digital experience that empowered those physical locations – rather than take business from it. Years after, many corporations would see the downfall of their physical locations, especially when people changed their purchasing behavior during the COVID-19 pandemic. Franchises that didn't invest in tech that brought business to those storefronts saw hundreds of physical locations close in a short amount of time.
Through ecommerce strategy consulting, spearheaded by their new CIO Mike McNamara, Target invested over $7 Billion to restructure their supply chain processes and completely revamp their digital experience. When all was said and done, Target drastically boosted online and storefront sales – resulting in a $15 billion increase in revenue. Then, in 2020 when the pandemic hit, while other businesses had to react and downsize, they were fully equipped to withstand and thrive throughout lockdowns. Now, as more people move back to in-person shopping, Target continues to thrive – with less competition than ever before. According to Target's CEO, Brian Cornell,
"Many thought the inevitable drift was for our store guests to become digital guests and that the current only ran in one direction. We saw something different. We saw a future in which even the most committed digital-only guests would find the best and easiest shopping experience at Target because of how we connect that experience to our stores."
At Blennd, we deliver omnichannel ecommerce strategy consulting for businesses around the country who want to future-proof their digital experience and strengthen every other aspect of their brand. See how it's accomplished for Target and our clients below.
Elements of Target's Omnichannel Ecommerce Strategy Consulting
Leveraging Historical Data
Boosting their omnichannel ecommerce strategy meant investing in technology that leveraged historical data and predicted the needs of the Target customers. By bringing in cutting-edge software developers, Target's digital experience harnessed machine learning that tracked what people bought. This brought Target's purchasing power to the next level, informing the items and categories that got the most attention from their audiences. They could then invest more shelf space to the items that people truly needed and wanted based on their actual behaviors online. Analytics and AI (artificial intelligence) technology deliver a future-proof path to better sales in an omnichannel ecommerce strategy. With data-backed insights into their customers, businesses can save a ton of time and money.
At Blennd, data drives nearly every element of our strategies. From website analytics to industry insights, to user testing data – there needs to be a "why" for every element we recommend. For projects like Western Colorado University's school website design, data informs updates and optimizations every single quarter. User testing provides ongoing information into what incoming students need and want when navigating their platform. Keeping up with how behaviors change over time guarantees more success down the line.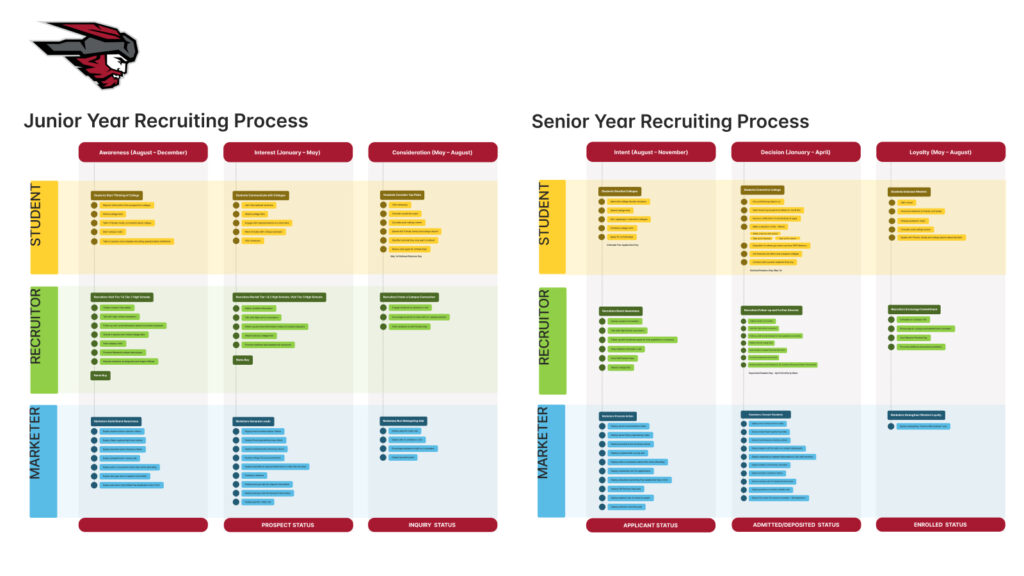 Identifying Personas
One of the most important elements of any strategy is knowing your audience and how they behave. What are their needs and goals? What are the pain points in their decision-making process? What are they feeling in those moments? Where do they go and what actions are they taking? When and how do they prefer to achieve these goals? Knowing these key thought processes sheds a lot of light on how their sales should be structured. According to Cornell,
"At the heart of the platform was a belief that consumers would continue to flock to our stores for multi-category one-stop shopping, a friendly, well-trained and knowledgeable team, and joyful experiences."
Target's team knew that their biggest value to their audience was their storefronts – so their digital brand strategy needed to support those stores. The first thing we address in digital brand strategy is the target audience persona. We map out who they are – their demographics, desires, pain points, and key selling points. This makes the next step of building their user journey seamless.
Blennd's client, KIOSK Information Systems approached our team in need a of user experience revamp. As a brand, they wanted to pivot selling their standardized solutions and increase sales, but their website focused heavily on custom solutions. Blennd developed a strategy that transformed KIOSK's website into an ecommerce shopping experience, where customers could browse their solutions and request a quote right from the platform. It spoke to the true needs of their personas, who wanted to get a better understanding of their products and find the right solutions for their business.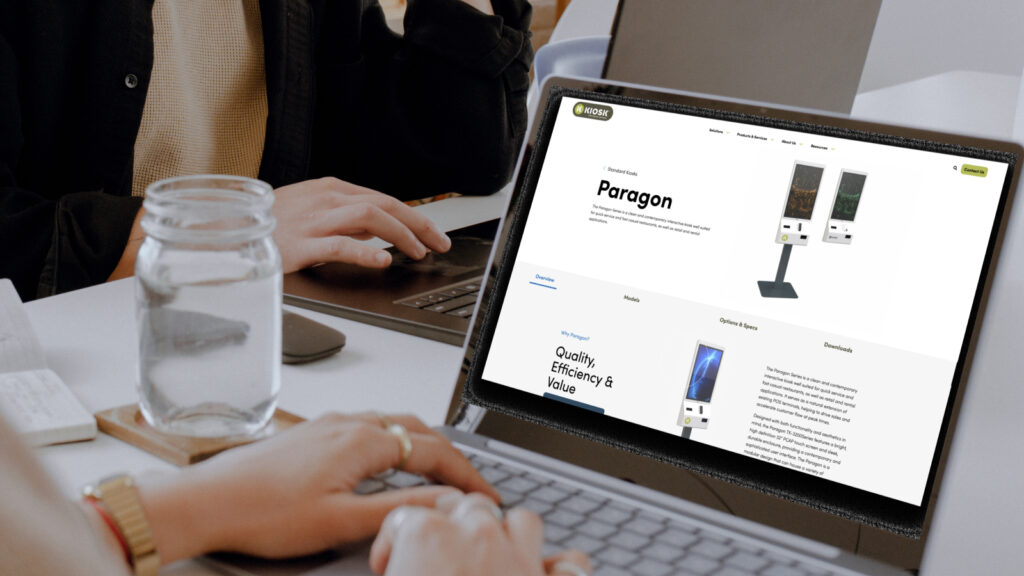 Pinpointing Priorities
With so many locations in every single U.S. state, Target not only had to support their customers, but also their stakeholders and franchise owners. Some business models run their ecommerce as a separate business – collecting revenue as a direct sale. However, Target's omnichannel approach positioned them to drive business to all their locations – by using the stores as warehouses and allowing sales to go through those specific businesses. By streamlining this process, their locations thrived by fulfilling all the local orders through shipping (or curbside pickup). That meant that even those who opted for online orders were often still purchasing from their nearest Target storefront.
"We went our own way, built a fulfillment model with our guest's local store at the center and took the initiative on same day. We could just as easily have constructed additional fulfillment centers and driven the shift to digital sales with more ship-to-home capacity. But the economics were terrible and we wouldn't have been differentiated. In short, we didn't see the textbook solution as scalable or as likely to do what we've done, namely set the groundwork for years of guest satisfaction and brand loyalty."
This outside the box thinking set the brand up for success for years to come. Not only do customers benefit from browsing online and selecting exactly what they want, but they also typically received faster fulfillment because their nearest "warehouse" was the Target store down the road in their local shopping district. Knowing your business' priorities, and those of your audience empowers creative solutions for better outcomes.
Pivoting Service Offerings
When the COVID-19 pandemic hit and people stopped shopping in stores altogether, businesses leaned heavily on ecommerce to fill in the gaps in business. Many businesses that were digitally equipped stayed afloat by downsizing storefronts and prioritizing online orders. Those that were not digitally equipped suffered even more. During this time, Target's omnichannel approach to sales paid off. Options like curbside pickup reduced the cost of shipping and encouraged people to visit the store after selecting their items online -- even throughout the pandemic – and even from their vehicle.
This local approach positioned target more like a neighborhood market and encouraged people to continue engaging with the store and their employees. These creative features kept their brand top-of-mind throughout the pandemic and after restrictions eased. Target was always there throughout that difficult time in some capacity -- and customers remembered and appreciated it. Without the technology and omnichannel ecommerce strategy that enabled those interactions, they would not have seen as much success. Now, over 50% of the purchases made through the target website are picked up in-store by the customer.
Investing in Top Tech
A great user flow needs to be supported by top technology to properly execute goals. One of the major issues on Target's previous site was the gaps in their website's security. To win back their customer's trust, their new platform needed to address that issue and promise a secure purchasing interface. On top of that, custom-programed software enabled AI-driven recommendations for customer purchases and delivered highly accurate recommendations to stores for what they should stock their shelves with to maximize sales. Meanwhile, an easy-to-navigate, bug-free interface keeps people on the site and engaged with their browsing, enabling higher rates of goal completion and more revenue.
Creating an Unmatched Experience
A great user journey that accomplished customer goals efficiently while maintaining a great brand experience gave Target the edge they needed to not only make it through the worst of the COVID-19 pandemic, but thrive throughout that time. By investing in omnichannel ecommerce strategy consulting and execution, they were positioned to succeed regardless of the outside circumstances. Businesses – large and small -- who consider these key strategic elements can equip themselves to grow year after year.
Results: $9 Billion Increase in Market Share
What were the results from this ecommerce website redesign? Target saw a massive increase in revenue after launch – but the real payoff came in 2020 when everyone took advantage of the omnichannel platform they fostered. That year, there was a 500% increase in pickup service orders year over year. Meanwhile, online sales increase by 300%. They earned a $9 billion boost in market share and saw a $15 billion increase in revenue. Their omnichannel presence enabled serious success at a time when many businesses struggled to fulfill orders and keep customers happy. When push came to shove, Target was always an easy option to get what they needed efficiently because of their digital experience structure.
Access Data-Driven Omnichannel Ecommerce Strategy Consulting
Could your business benefit from omnichannel ecommerce strategy consulting? Blennd can support your brand from strategy, to creative, to tech and digital execution. We implement cutting-edge solutions that enable measurable growth for businesses and equip them for anything. Get in touch with our brand strategy agency to discuss how we can support your team today.