By following SEO content writing best practices, you're increasing the likelihood your keywords will rank in search engine results pages (SERPs). We created this SEO copywriting guide to share with clients interested in enhancing brand visibility online. Whether you're optimizing an existing website, writing new articles for your blog, or launching new services, these SEO content writing tips may improve your strategy. In this article, we'll show you which boxes to check when tasked with writing content for a website.
SEO Content Writing Best Practices
In the United States, most businesses and journal publications leverage what's known as "AP Stylebook" (short for The Associated Press Stylebook). While AP-Style has evolved to become the industry-standard for communicating to the general public, search engines have created a need for an adjacent SEO copywriting guide. At Blennd, we recommend following SEO content writing best practices along with AP Stylebook to deliver highly-effective, top-quality content to your audience. While following our SEO copywriting Guide will help you craft content to be favored by Google, it's still important to leverage journalistic writing standards and a consistent brand voice.
SEO Copywriting Guide 

Keyword research is a crucial step in building search engine-ready content.
Target Keywords
Select 1 primary keyword and 3-5 supporting target keywords for each page. Don't select the same target keywords for multiple pages as this confuses Google's understanding of the content on your webpages. Search engine algorithms need to identify which pages are most important for a specific keyword; otherwise, you may cannibalize your own rankings. A consistent keyword strategy is one of the most crucial elements in developing a cohesive search engine optimization strategy.
Main Headline
Include the primary keyword in your main headline (H1 Tag). The main headline should always contain at least one keyword for which you're attempting to rank the page.  Finding natural methods for including supporting keywords is important as well (whenever possible). SEO content writing best practices also indicates you should not duplicate your webpages meta title in the main headline.
Sub-Headlines
Craft descriptive sub-headlines for each paragraph to enhance your SEO strategy. Sub-headlines not only guide readers through the content, they also describe the content to the search engine. You should also use the page's primary keyword in at least one of your sub-headlines (in addition to the H1 tag). It is also recommended that you incorporate value propositions and benefits into sub-headlines whenever possible. Finally, embed a logical hierarchy of headline h-tag levels throughout the copy (i.e.; h2 tag followed by h3 followed by h4).
Formatted Text
Highlight important content using bulleted lists, tables and font emphasis. By using special font formatting and font styling, such as bolding / italicizing, you can draw your reader to the most important areas of your page. This is also a helpful ranking signal for Google as it indicates which text contains crucial takeaways, keywords and data. For example, in this article we're emphasizing "SEO copywriting guide."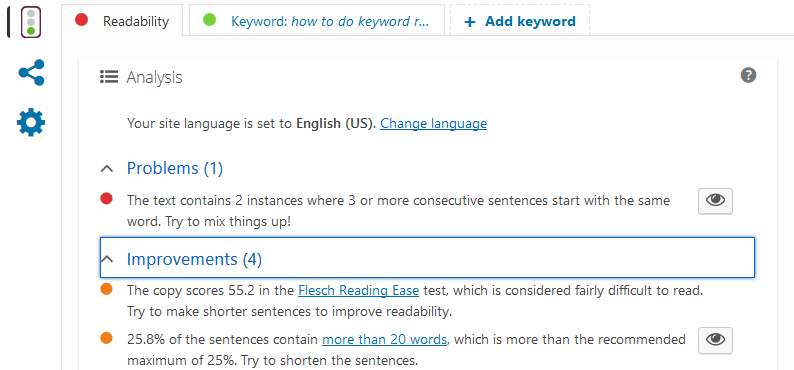 Readability score impacts user experience and keyword rankings.
Content Readability
Create paragraphs that are not too long and are easy to read. You can increase the readability of your content by writing paragraphs that are between 75-100 words in length. Avoid using too many difficult words in one paragraph. Try to trim down the length of sentences whenever possible to keep the reader's attention and enhance the overall readability score of your webpage (a ranking factor for Google). Readability is important for all forms of writing and is an important element of our SEO content writing best practices.
Keyword Variation
Include your target keywords throughout your copy but don't focus on keyword density (aka keyword stuffing). If your content is sticking to the topic you are probably putting out copy that has keywords in it. Using related keywords, synonyms and grammatical variations are great methods for limiting redundancy while increasing your search engine rankings. For example, if your keyword is 'inbound marketing', a phrase like 'inbound techniques' breaks it up and sounds natural to readers.
Internal Links
Embed keyword-targeted internal links to other pages on your site. Internal links not only add value and improve the reading experience, they also provide an internal link structure that affects the crawlability of your site. When a search engine crawls your page, it may also crawl other internal pages to which you're linking. . The link text – also known as anchor text -- should be one of the target keywords you've assigned to destination page.  For example, if you have an internal page targeting 'SEO Tips' and you are referencing it on the homepage, the text link on the homepage to the internal page should read, 'SEO Tips'.
External Resources
Identify external resources you can embed as hyperlinks in your content. Your content will appear more valuable in the "eyes" of the search engine if you link to external trusted publications, blogs and websites. And from a reader's point-of-view, it's a great way to support key points, add information and cite external sources while keeping your copywriting concise and to the point. Google will consider your content more valuable if it contains links to related content on third-party websites.
Call to Actions
Invoke an action from your readers by including strong call-to-actions (CTAs). A call to action, button or link, is the best place to tell your readers what to do. Be direct. If you want to provider your audience with an eBook to download, let them know by incorporating CTAs throughout the copy. It is a good idea to include strong calls to action at the beginning and end of your content to keep users navigating around your site.

Meta Title and descriptions tell search engines about the context of your page.
Meta Data
Add your primary keyword near the beginning of the meta title and create a captivating meta description.  Not only is this a ranking factor for Google, the meta title is also the first thing a user sees on search engine results pages (SERPs). If someone is searching for your primary keyword, it's a good idea to include it in the title that they see in the results While meta descriptions are not a ranking factor, they are one of the first things your reader sees. This data appears underneath your title when your page pops up in the SERPs.
Quality Search Engine Optimization
Monitoring SEO Trends
Now that you have a better understanding of SEO content writing best practices, it's important to stay ahead of the curve. While content writing is nothing new, SEO has only been around for the better part of two decades. The nature of SEO is very dynamic and reactive; SERP algorithms, such as Google Search, are constantly evolving to incorporate new ranking signals. As a result, businesses should maintain an understanding of the current state of SEO.  At Blennd, our Denver search engine optimization services incorporate all the latest and most effective SEO strategies.

Google's algorithm is constantly adding new ranking factors.
Let Blennd Be Your SEO Copywriting Guide
Do you need assistance maintaining SEO content writing best practices? Our Denver SEO consultants are here to help. We have helped countless organizations encounter significant growth in organic website traffic as a result of our optimization strategies. Whether your business needs help selecting keywords for a new blog article or writing content for SEO voice search results, Blennd is here to assist. Work with us today!
References:
Resources: