SEO voice search expands on the tactics your website should already be leveraging to be successful online. When people use Google voice search online, only the rich featured snippet is spoken aloud. In order to enhance visibility online and gain the competitive advantage, businesses need to implement structured data on their website. In this article, we'll discuss how voice search is changing the digital landscape and how your business can stay ahead of the curve.
Expert Marketing Tips for SEO Voice Search
At Blennd, we constantly research the latest up-and-coming digital marketing trends to discover new tactics. Our Denver SEO experts have the experience and technical skills necessary to help your website become featured in Google Voice Search results. SEO voice search provides an opportunity for your business to literally be heard by customers instead of your competitors. But what is voice search evolving into and how does Google voice search work?
Voice Search
What is Voice Search
How Does Google Voice Search Work?
Interactive Voice Response

Background
What is Voice Search?
Voice search is the process by which a user submits a query to search engines using speech recognition on an electronic devices, such as a computer, smartphone or smart speaker.
How Does Google Voice Search Work?
According to Search Engine Watch, Google Voice Search works by --
Break[ing] down a query to understand the semantics of each piece and glean the intent behind it with better accuracy.
Interactive Voice Response
Speech-enabled interactive voice response systems, or IVRs, provide users with the ability to submit responses to applications. IVRs were first developed to serve as touch-tone-based input for customers contacting customer support, checking bank account information and interacting with other forms of automated answering machines.
According to the University of Kentucky [PDF],
The IVR industry is currently driven by improvements in:
Speech algorithms;
Natural language processing;
Vocabulary management;
Language modeling.
Personas
Your Brand is Your Persona
According to Ed Doran, Microsoft's director of program management and co-founder of Cortana, voice search requires marketers to consider...
what is the best way for that [persona] to be expressed in an audio environment or a mixed audio / visual environment
Building a Relevant and Prominent Persona
When considering how AI integrates with third-party tools, such as how Alexa "talks" to Domino's Pizza, the assistant voice in many ways speaks on behalf of your brand. Currently, Alexa will say "Hi, I'm Domino's" without altering the persona. Ideally, a brand should develop a clear persona and adjust its speech patterns to reflect the voice of the business, service or products in question.
Persona-Driven Marketing
Google voice search online expands upon persona-driven marketing -- an important aspect of optimizing your website conversion rate -- with the expression of audio and visual elements through the assistant. It's important to understand what the persona of the voice assistant you're working with is and how to express that in alignment with your brand. For this reason, it is recommended that businesses conduct user-testing to identify the right personas that best fit your brand.
Elements of Voice Search Personas
Voice phrase complexity;
Voice length;
Length, formulation, elocution, markup, secure, mobile-friendly;
Elocution; accurate pronunciation of all words, intonation, speed;
Conversational tone is involved.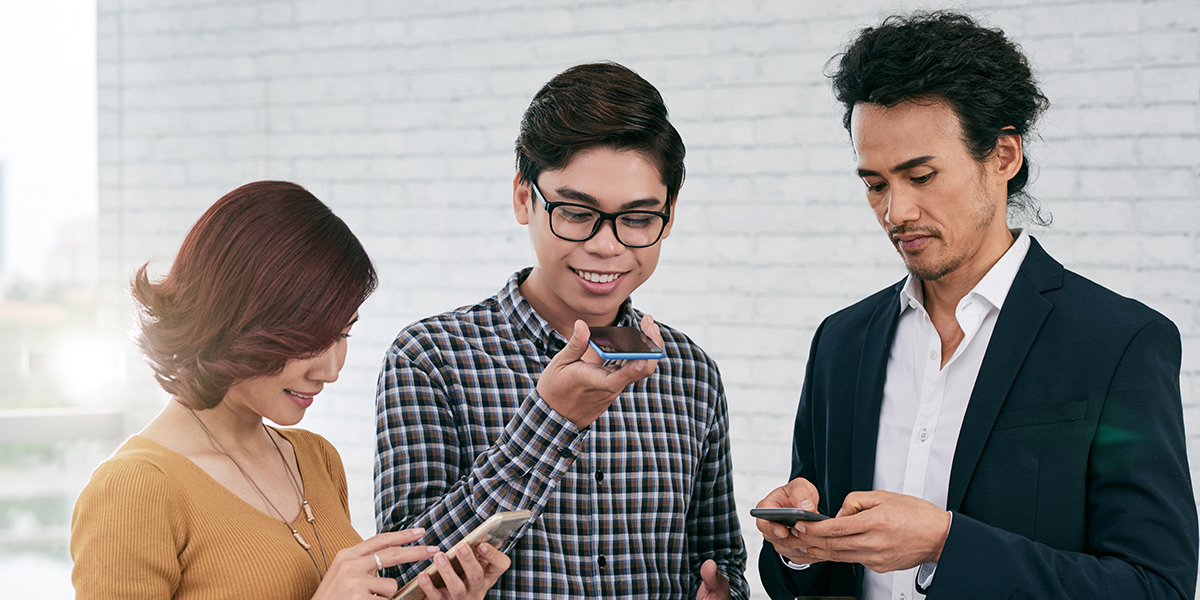 SEO Voice Search
When it comes to SEO voice search, it's all about your structured data aka Schema markup. If you want your webpage to be "heard" by your customers via Google Voice search online, you'll need to implement structured data into your web development process. Even with Schema in place, Google will weigh your page against your competitors content to determine which result earns what's known as the Featured Snippet.  For information on how to leverage SEO voice search using Schema, please see our article titled, "How to Get Rich Snippets."
How to Find SEO Voice Search Keywords
Using traffic analytics you can ascertain what SEO voice search keywords are driving users to your site. Google has adjusted its algorithm to provide more accurate results when using Google Voice Search Online. It is recommended that you review long-tail search keywords on your server logs to understand what questions people are asking -- specifically focuses on natural language keywords which are more likely to be driven by voice search.
Benefits: How SEO Voice Search Brings New Opportunities
You expect the tone, verbiage and visuals to reflect your needs. E.g; a financial advisor should have professional personas while an event planning service may have a lighter more exciting persona. Alexa, Cortana and Google voice search are the three leaders in the IVR industry. Your business can gain more visibility online and enhance its customer service by leveraging SEO voice search strategies.
According to Google CEO Sundar Pichai,
Over 20% of mobile searches on the Google search app are driven by virtual assistants
SEO Voice Search Paves the Way to the Future
Today's consumers are using SEO voice search to conduct simple tasks. The data shows people use virtual assistants for day-to-day use, including setting timers, creating triggers and playing music. In 2018, marketers need to know what's important to users to provide more relevant augmentation in order to deliver the right information to the right users in the right context. Organizations need to build more trust with their consumers in order for them to engage with the brand.
Let Blennd Build Your SEO Voice Search Strategy
Google Voice Search online has paved the way for companies to deliver better information designed to enhance productivity, creativity and daily life. At Blennd, we perform extensive keyword and topic research to create custom-tailored marketing strategies designed to help you reach the right customers in the right places. Our Denver search engine optimization team has helped countless organizations experience significant growth in organic website traffic. Weather your business knows how to do keyword research or you're just interested in adding SEO voice search to your business strategy, Blennd is here to assist. Work with us today!
Resources: