What factors are influencing website design trends in 2019?
Most new website design trends come and go — very few last more than a few years. While a lot of new web design techniques look flashy, many inhibit user experience making it more difficult for users to navigate a website to ultimately find what they are looking for.
The design trends that endure the times are the ones that create a seamless user experience and increase conversions. The best performing websites find the perfect balance between usability and aesthetics, which leads to happy users and a website that generates results.
As a leading web design and development agency, one of our most important values is to not only stay ahead of the curve – but define it. Our list of the top 2019 web design trends combines techniques that have been popular for years along with new, up-and-coming tactics that are making a splash this year.
Keeping up with the latest web design techniques and trends is enough to make your head spin, so we've put together this article exploring the most important and impactful website design trends of 2019.
We hope you'll enjoy our look at the top 10 web design trends for 2019.
Website Design Trends of 2019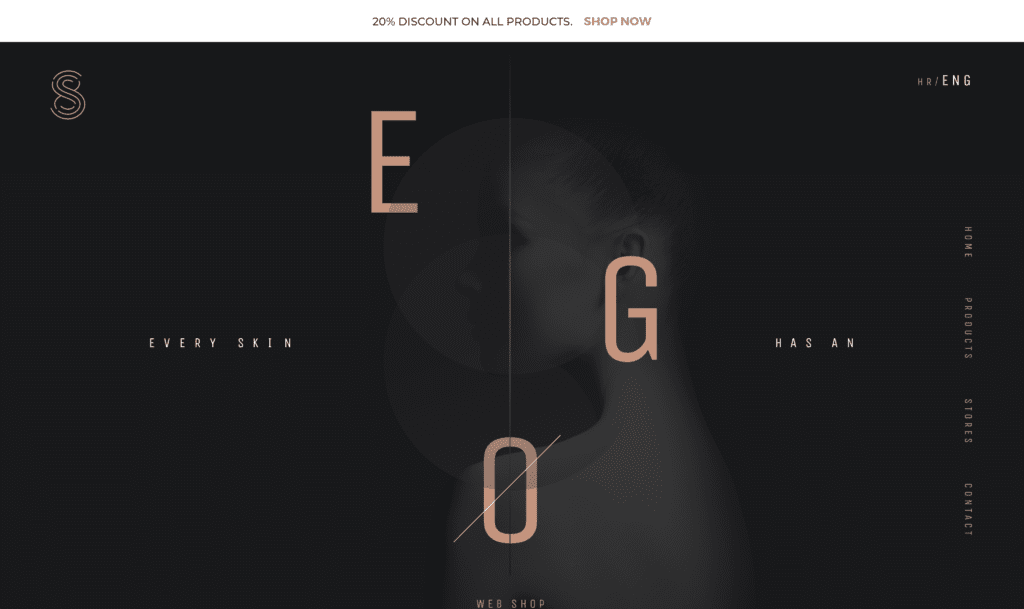 1. Minimalism
Minimalism is one of the timeless website design trends that has been on the rise for years, and 2019 was no different. At the core, minimalism is simplicity. It is a design principle that continues to thrive since it is synonymous with a great user experience. Minimalistic web design creates a friendly experience that makes it easy for users to follow content and focus their eyes on your primary call to action (which leads to more conversions).
Whether it's the use of white space, large photography or typography, a well-designed website enables users to easily digest information find what they are looking for. This is best achieved by using fewer elements, which is why minimalistic design continues to be one of the most popular and enduring web design trends.
Pro-tip: Only having one primary call to action and creating a hierarchy of elements in your page structure is key to achieving a minimalistic design. It is harder than you think to create a cleaner more focused design and is one of our specialties at Blennd. Contact us to discuss your next project.
2. Vibrant Color Palettes
Use of vibrant colors and bright color palettes is a rising web design trend in 2019. In industries that are over-saturated with competition, bright colors are quite literally helping businesses stand out from the crowd. Bright neon's, retro palettes and metallics are making a comeback in a big way. Thanks to displays with mind-boggling resolution, use of vibrant gradients are also popular again.
Pro-tip: Vibrant colors are best used in moderation to draw a user's attention to a primary call to action. For example, a greyscale color palate with neon yellow buttons can create a lasting impression.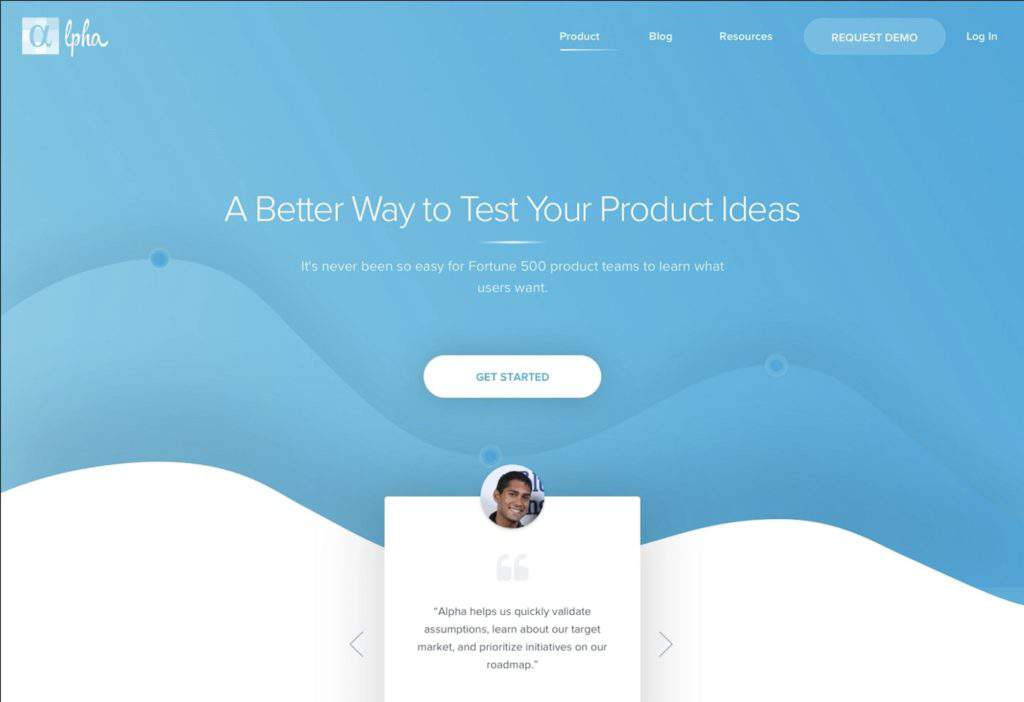 3. Organic Shapes
2019 web design trends are moving away from linear grids and more towards organic, flowing elements and shapes. Circular elements and custom drawn organic shapes are being used to make website designs feel more natural and approachable. Using organic shapes as background elements that overlap sections can also be used to draw a user's eye down the page and to highlight feature elements.
Organic, free-flowing shapes are less rigid and based on natural elements that people experience in everyday life (rolling hills, ponds, rocks, etc). These shapes can be used as background elements to connect sections or create depth or subtly to draw a user's eye to a primary call to action. Also, with the rise of animation, many website developers are animating organic shapes to morph and change, creating engaging moving elements. The rise of this web design trend will most likely continue well into the future since it makes web designs feel human and alive through the illusion of movement.
Pro-tip: Be sure to incorporate a clear balance between visual elements on the page. Too many unique shapes can be distracting while too many boxed grids may make the page appear stale or outdated.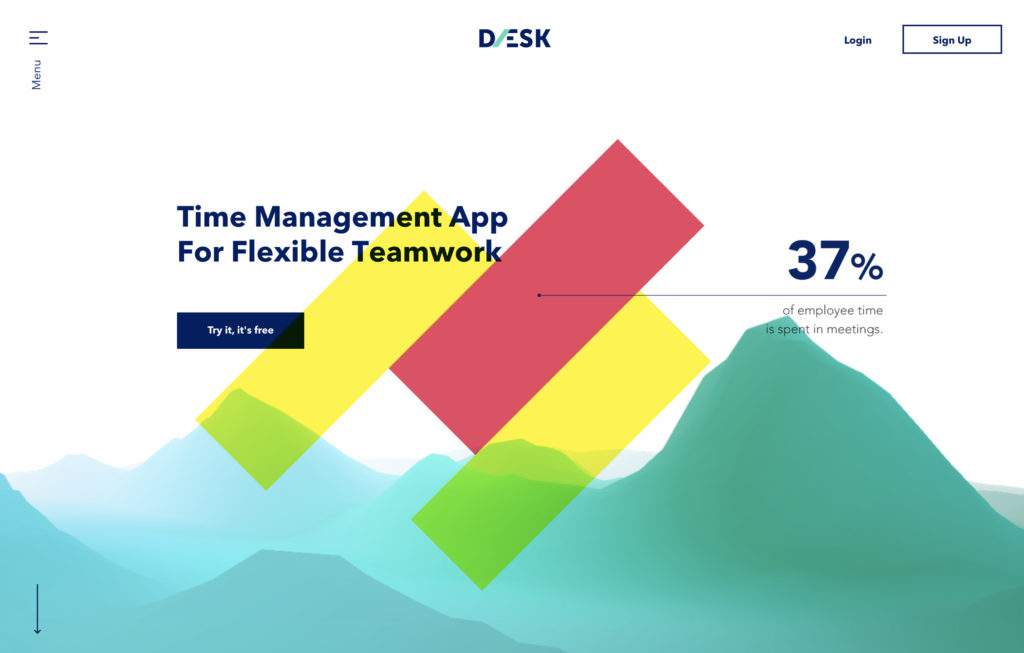 4. Overlapping Elements
Creating depth using overlapping elements is another up-and-coming 2019 web design trends. This is most successfully achieved using a combination of shapes, colors, photos and typography. Use of blur is also being used to create depth and separation from the page. Overlapping elements also help a user's eye flow down a page. Proper management of overlapping elements is one of the most important UX trends.
Pro-tip: Raising a section heading on top of the layer above, such as a hero image, is a great method for adding depth to the page.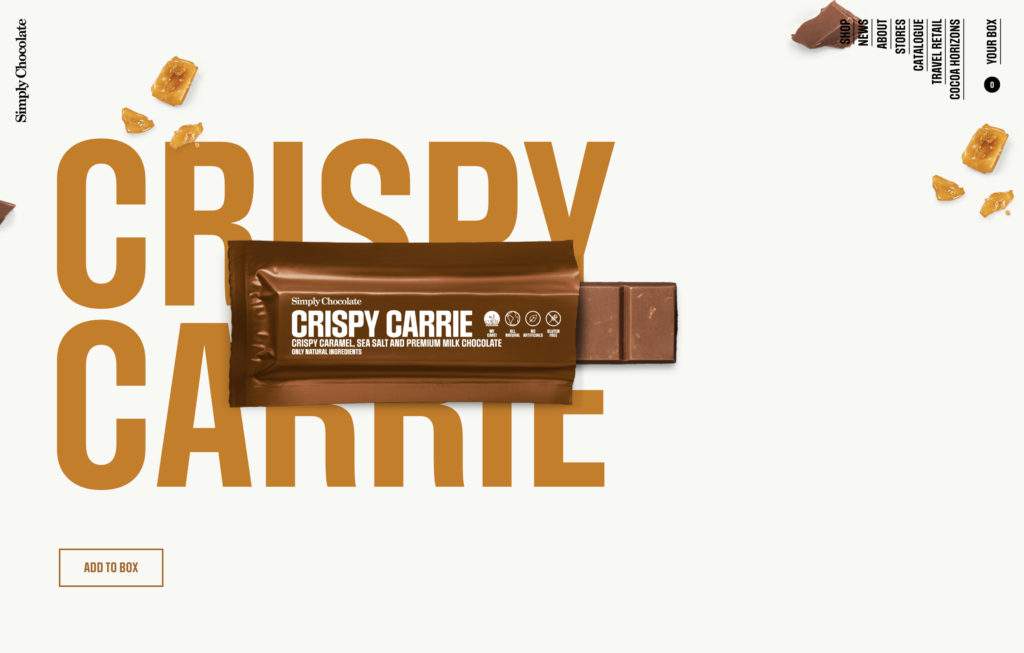 5. Immersive Experiences
With the rise in technology and new coding techniques, websites are becoming more and more experiential. Immersive experiences are being used as a storytelling technique to draw a user in to a brand narrative and keep them engaged. Typically, these immersive experiences are built through interactive on-page elements using video, animation, VR (virtual reality), AR (augmented reality) or through scrolling.
Pro-tip: Immerse your users the moment they land on your website's homepage using a full-screen hero header with a moving video background setup to automatically play and loop.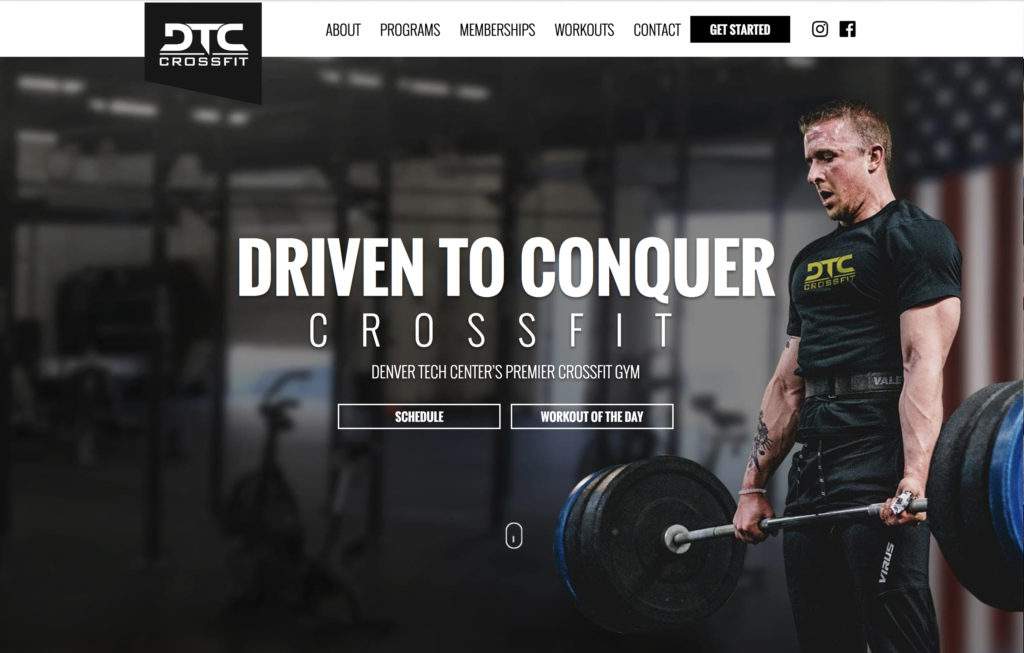 6. Storytelling Through Scrolling
Storytelling through scrolling is another web design trend that has been around for some time now. It continues to be popular as a result of endless scrolling social media experiences (think Facebook or Instagram newsfeeds). Users can easily spend hours scrolling in social media feeds and as long as they are continuing to be engaged this is a great web design technique to mimic. It is a great way to tell your brand story and keep a user engaged on your website.
Pro-tip: Combine shapes and animations with endless scrolling to create a more captivating storytelling experience for your users (more on scrolling animations below).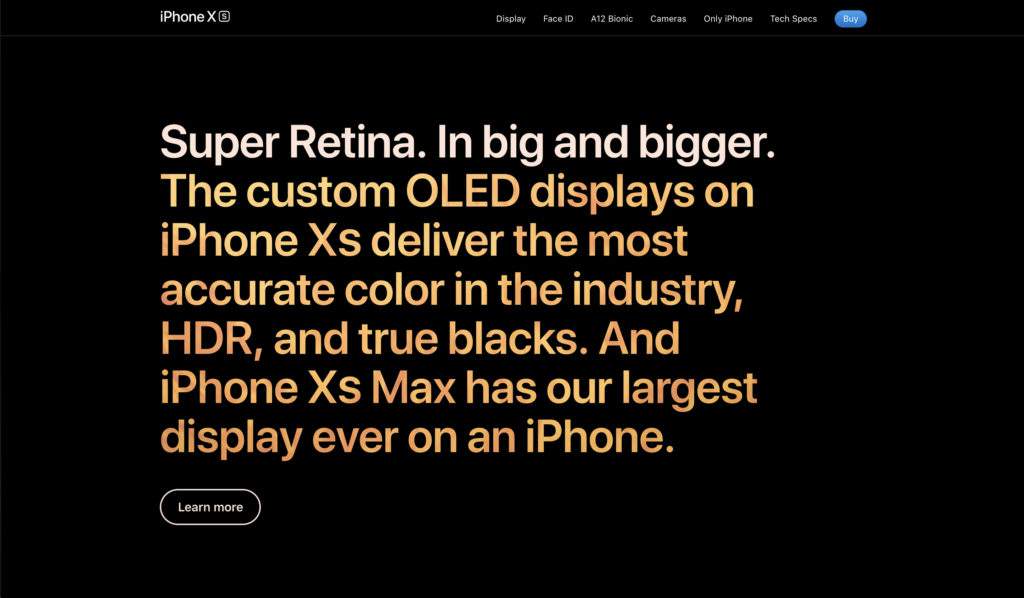 7. Large Typography
There has been a shift in 2019 web design trends which involves using text as a featured element on websites. You will see many well-designed websites using large stacked headlines and few if any images. With the proper layout and type face, this web design trend can be very impactful and quickly focus a user's attention on your brand message and content. However, if not used properly, it can create the opposite effect and overwhelm users (you don't want to come across as shouting at people).
Another typography web design trend in 2019 has been a shift back to using vintage san-serif fonts. Combining vintage fonts with bright colors and photography can actually create a very modern and engaging feel to a website.
Pro-tip: In order to utilize this website design trend, try creating an engaging layout with a double- or triple-stacked headline in the feature area of the homepage. Also, if you are going to have your text be your primary feature, you need to make sure it is well written and impactful.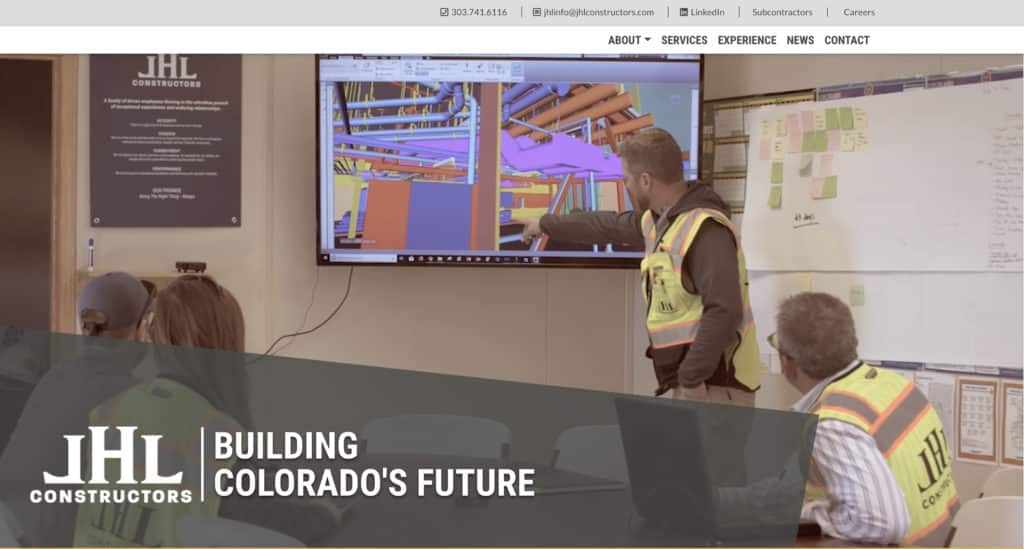 8. Video & Micro Animation
Use of video elements on websites are becoming more popular as screen resolutions and internet speeds continue to improve. Videos and animations are now very common on mobile and are a great way to engage users. It is a great way to portray multiple messages or imagery in a simplistic way without cluttering the page. This can be done using background video elements or animating in elements as a user scrolls down a webpage.
Micro animations are small movements that delight and surprise users, which are also gaining popularity among 2019's web design trends. They are commonly based on a user interaction such as a hover or click. They can be as subtle as a bouncing arrow or as immense as a confetti explosion celebrating a positive user action.
Pro-tip: Identify a few animation paths to use with various elements on the website to create a cohesive navigation experience.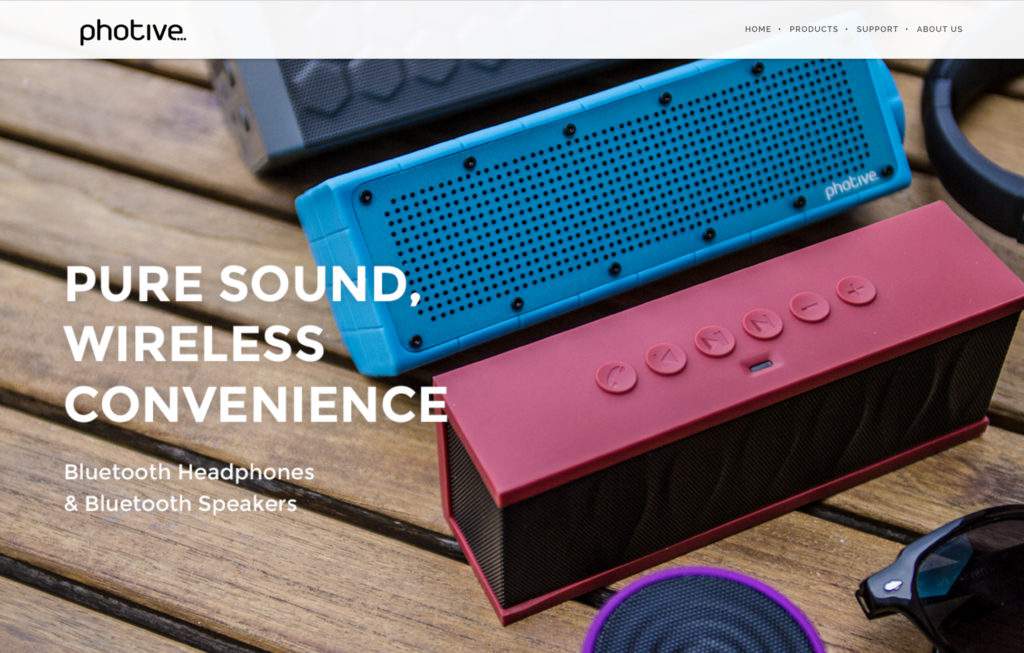 9. Writing for UX
Copywriting for websites is becoming more human, casual and fun. All websites have content, but the importance of the messaging is becoming ever more important. In order for brands to keep users on their websites, they must deliver authentic messaging that engages their target audience.
Writing in alignment with UX trends entails creating content that helps users better engage and connect with the product or service. Great content tells a story in an engaging way and creates an emotional connection with the intended user in order to get them to perform a desired action.
Pro-tip: Craft your section headings to be descriptive of the content that follows while incorporating call-to-actions or benefits wherever possible.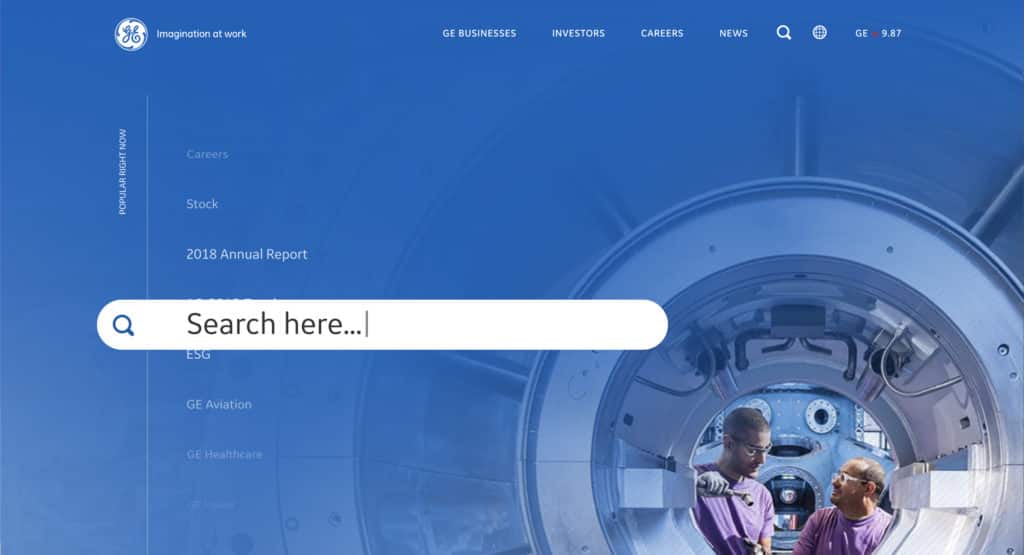 10. Use of Design Systems / UI Kits
At a high level, design systems and UI kits are increasing in popularity as their importance becomes more synonymous with great brands and web design. Design systems help create a sense of consistency with elements throughout a website and brand experience. They include a series of design elements such as buttons, type styles, colors and more that can easily be re-used and re-purposed on various web pages. While multiple designers and developers may work on a website, a design system or UI kit makes that issue obsolete.
Pro-tip: Limit yourself to two or three variations of each element to use in similar places throughout your website. For example, a blue background button everywhere you include the call-to-action text "Request a Quote."
Conclusion
Develop a Design Strategy with Blennd
Finding the right balance between visual design and user experience helps to create a highly-effective website. By implementing these trends into your website design process, you're more likely to convert your visitors into customers. At Blennd, we leverage years of design experienced while following the current technology trends in web development. When it comes to website planning and strategy, our team helps clients design, plan and launch feature-rich, visually-appealing websites. From fitness website design to search engine optimization, Blennd is your one-stop-shop for developing your online community.
Ready to put these 2019 web design trends to work? Contact us today!