In this IT services SEO case study, we'll examine how we facilitated significant growth in organic website traffic for Dataprise. Over the past couple years, we've leveraged a number of up-and-coming search engine optimization (SEO) tactics to help Dataprise maintain its competitive advantage. From structured data markup to on-page content optimizations, Blennd's Denver SEO expert consultants increased organic sessions by 106.24% in 36 months. Now, let's took a look at the background, strategy and results of this IT Services SEO case study:
IT Services SEO Case Study: Dataprise
Background
As one of the nation's largest information technology companies, Dataprise was interested in increasing its visibility on search engine results pages (SERPs). Dataprise serves customers across the nation with physical workplaces located in specific service areas. While Dataprise.com had experienced some modest organic traffic over the years, the organization wanted to increase website conversion rate by attracting higher-quality leads. With many complex subject areas, services and products represented on the site, the company found it difficult to drive the right users to the right services. This is where Blennd stepped in to develop custom-tailored, ongoing search engine optimization strategies to enhance Dataprise's digital presence in the business IT services industry.
[caption id="attachment_9324" align="aligncenter" width="952"]

Featured Snippet[/caption]
Strategy / Solution
Blennd conducted a comprehensive site audit to identify which areas were performing well in organic search and which areas could benefit most from SEO. After identifying a set of target keywords, our team began providing robust on-page content, meta data and structured data optimizations. In addition to optimizing existing content on the website, our team edited new content in alignment with the organization's goals. We leveraged local SEO strategies to boost visibility and maintain local business listings across dozens of networks, such as Facebook, Google My Business and Yahoo!. Along with various other initiatives, our strategies contributed the successful results reported in this IT services.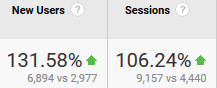 Results
Increased organic traffic sessions by 106.24% in 36 months (9,157 in August 2019 vs 4,220 in August 2016).
Increased customer conversions from organic traffic sources by 23.34% in 12 months (1.07% in August 2019 vs 0.87% in August 2018)
Earned seven featured rich snippets at various points throughout the project as a result of Schema markup.
Attributed to an increase of 3,337 keywords ranking in the top 100 positions on SERPs in 36 months (876 in August 2016 vs 4,213 in August 2019)
Nearly tripled the total number of organic keywords ranking in the top 3 positions on SERPs in 36 months (191 in August 2019 vs 69 in August 2016)
Identified over 775 toxic backlinks and disavowed them with search engines to significantly improve the domain's trust score and SERP performance.

Conclusion
In comparison to the domain's performance before we became involved, Dataprise has seen a significant increase in online visibility. Organic traffic sessions, top-ranking keywords and enhanced SERP features are just a few of the areas where we contributed highly-successful SEO initiatives. As a result of regular communications with the client, involving monthly conference calls, reporting and research, we developed a custom strategy and strong relationship with Dataprise.
Client Website: Dataprise.com
Ready to increase the visibility of your business online? Contact our digital marketing agency to work with a Denver SEO consultant today!