Gain SEO Insights
The all-new FREE SEO report by Blennd offers powerful insight into how search engines see your site.
Our one-of-a-kind site SEO report includes:
Target Keyword Rank Analysis
Competitive Rank Analysis
Google, Bing and Yahoo Check
Link Building Analysis
Backlink Competitive Analysis
On-page Keyword Analysis
Meta Title and Description Check
Website Accessibility
Page Speed Analysis
Trust Metrics
Domain Score and Analysis
SEO Report Summary
Looking for help with your SEO? The SEO Experts at Blennd can discuss your site SEO report with you, help you understand how search engines see your site and show you how to incorporate the updates while implementing advanced SEO strategies moving forward. By running a site SEO report, you'll gain valuable insight into your website's visibility. Generate your free SEO report today!
FREE SEO Report Inclusions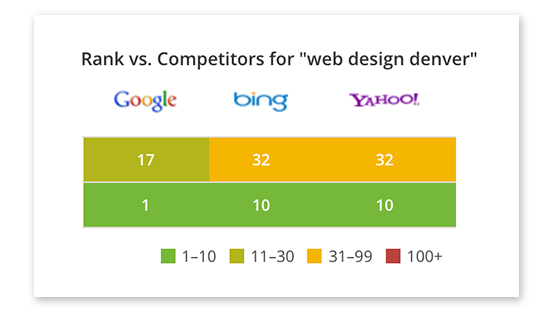 Rank Analysis
The Rank Analysis analyzes the rank of the keyword someone enters and is one of the most valuable aspects of your site SEO report. Rank Analysis is a snapshot of how well you are ranking in search engine results pages (SERPs), including Bing, Google and Yahoo! The Actual column indicates the current position of your main keyword. If applicable, you can also see how well your main competitor is doing for the same keyword across the three search providers in your free SEO report. If your keyword appears in both the top 10 and top 100 results, and you're ranking higher than your competition, then you're already off to a great start.
Link Building / Backlink Analysis
Link Building involves monitoring the number of hyperlinks pointing to your website from other locations on the web. This is an important aspect of SEO as search engines will consider your page more relevant and trusted if it has enough quality backlinks. The Actual column indicates the number of backlinks currently detected for your domain. If applicable, you can also see a bar chart in your free SEO report comparing your backlinks against your main competitor's backlinks.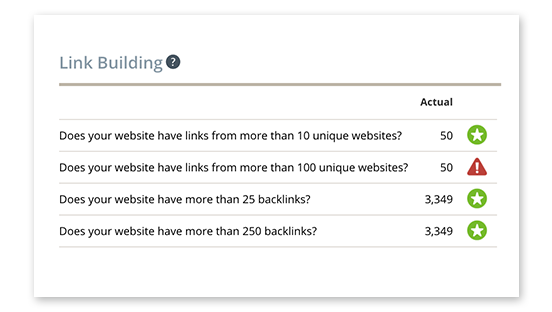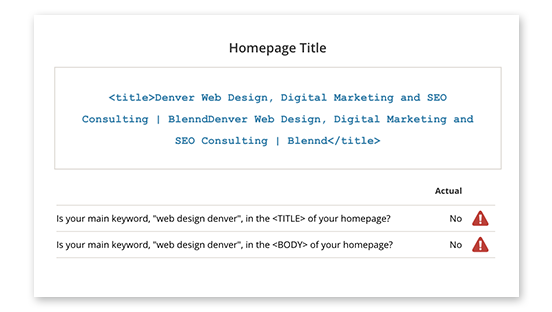 On-Site Keyword Analysis
The On-Site Keyword Analysis analyzes the on-page content for appropriate use of the main keyword. Keywords you're ranking for should appear in the page's meta data, including the Meta Title and Meta Description. Your main keywords should be used naturally throughout the body of the page, in the main heading H1 tag, and in at least one sub-heading H tag. Your site SEO report also displays the Meta Title which is what users currently see when your page appears in search results.
Website Accessibility & Page Speed Analysis
Website Accessibility refers to the page load speeds and user-friendliness of your content. Accessibility is an important factor in how search engines see your site. Your ranking in SERPs is impacted by the usability of your page. Search engines need to be able to crawl your website efficiently in order to rank its pages appropriately. The Actual column indicates the result of the crawl test on your domain. If applicable, your free SEO report includes a bar chart depicting the page load speeds of your domain vs. your competitor's domain.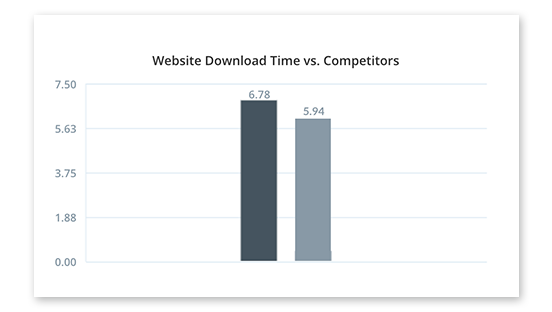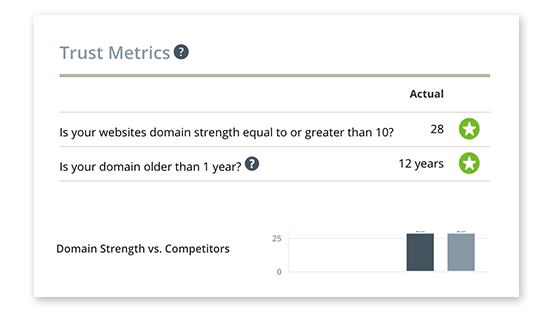 Trust Metrics, Domain Score and Analysis
Trust Metrics refers to the level of trust or authority associated with your domain. The more trust and higher authority your website holds, the higher your overall rankings will be in SERPs. The Actual column represents the strength or age of your domain's trust metrics. If applicable, your site SEO report compares your trust metrics against your main competitor in the form of a bar chart.