Your website is a vital part of your business and is a critical element of success in today's digital-first landscape. At Blennd, we look at your website as the engine to your car — everything runs through it and without it being built well and functioning properly, you cannot advance as a business or keep up with your competitors. Your website is the face of your business and is most likely the first point of interaction your customers will have with your company.
Do you need a new website?
In today's world, your website doesn't just need to exist or look nice, it needs to perform well, engage users, and generate leads. To help answer the question, "do you need a new website?" ask yourself the following questions. Is it easy to use on a mobile device? How well does your website perform? Does it stand out from your competitors? Does it represent your brand and convey the right message? Is it converting users?
To help you determine if your business needs a new website, ask yourself the following questions.
6 Reasons Why You Need a New or Redesigned Website
---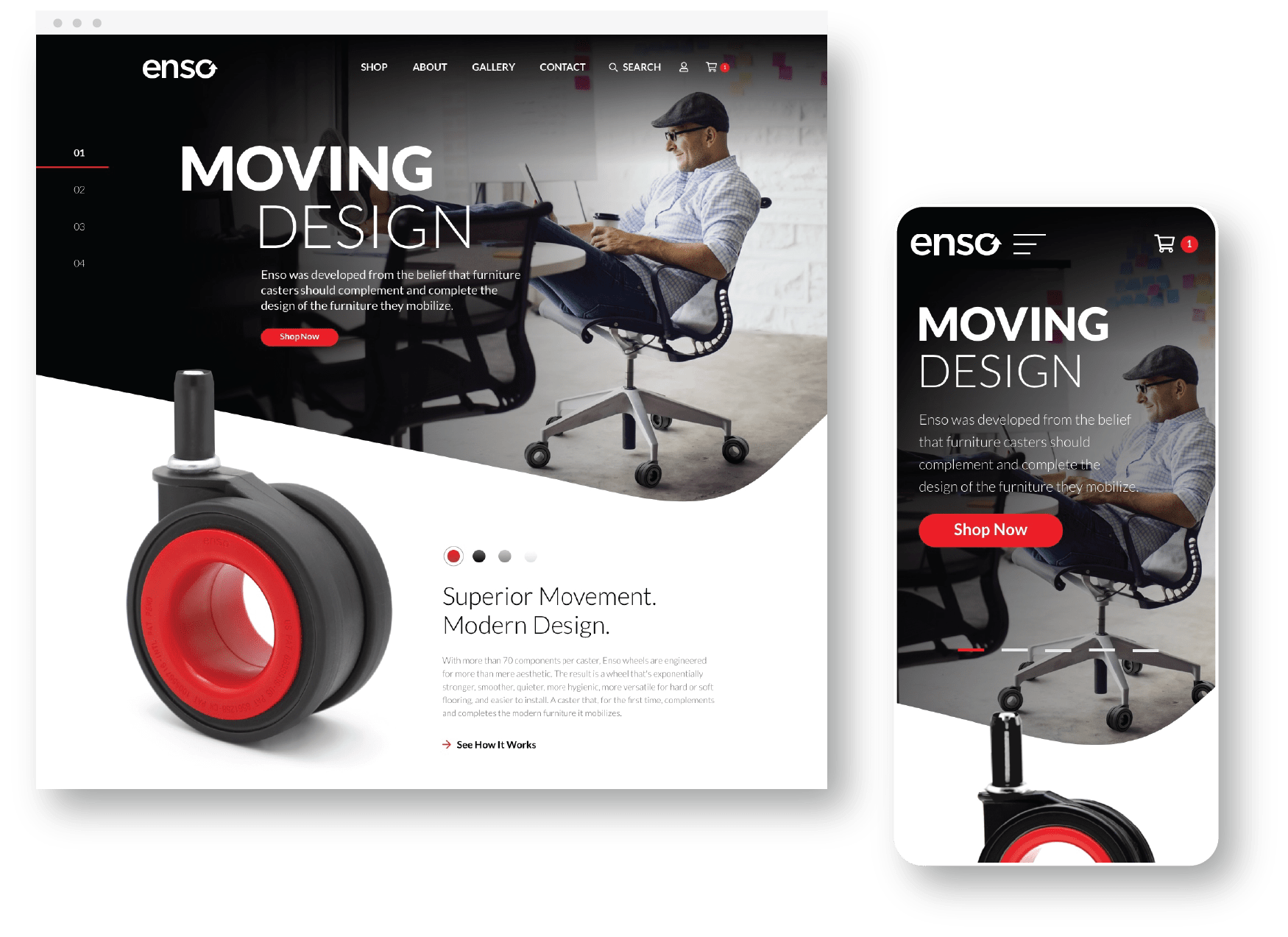 We designed the Enso Motion eCommerce website for an optimal mobile buying experience. Visit Website
---
1. Is your website mobile friendly?
When determining the answer to, "do you need a new website?" you should first consider if your site is mobile-friendly. You may have heard about the importance of your site being mobile-friendly, but this cannot be overstated. According to Statcounter, as of March 2020, mobile accounted for 52 percent of searches globally, compared with 45 percent on desktop. This reflects the growing trend of people using their phones as their primary and preferred browsing device.
In fact, depending on your industry, your site's mobile functionality may be even more important than desktop. For example, if you're running a retail operation selling designer shoes, the chances are your customers are clicking on your ads using their phones. This means they'll want to do everything—from browsing—to making purchases conveniently on their mobile devices. If you're operating a crowdfunding platform, the chances are people are sharing your site on mobile-facing social platforms like Instagram and Snapchat. This means that in order for people to donate, raise money, or share your site, it will have to be mobile-friendly.
User Experience
One of the most important attributes of your site being mobile-friendly is the quality of your user experience. Some essential elements of a mobile-friendly site include text-based phone numbers that trigger a call, easy-to-find directions for physical locations, mobile-specific menus, calls to action, and a simplified, easy-to-navigate user interface. In other words, your site should look and function just as well (if not better) on all mobile devices.
Mobile Responsive Design
When referring to mobile responsive design, it is important to not just focus on one screen size or device. While according to Statcounter, the majority of global users are using a Samsung  (31 percent) or Apple (27 percent) device, there are various versions and screen sizes that need to be tested for rendering issues and an optimal user experience. For example, the screen size and user experience are much different on an iPhone 6 vs an iPhoneX—and even more so on tablet devices.
At Blennd, we not only create custom designs for mobile versions of websites, but we also use a render testing tool during development to ensure every website we build looks great and functions well across all major browsers and devices.
Site Speed
It should come as no surprise that Google recently reported that 40 percent of people say they prefer to use their mobile device to do everything—from researching and comparing products—to making their final purchase. If your site is not mobile friendly, users are unlikely to return and may instead go to a competitor's site. A crucial aspect of the mobile user experience is site speed.
According to Google a report from retailers found that:
"A one second delay in page load time can impact mobile conversions by up to 20 percent."
Search Engine Optimization
Being mobile friendly is not only important for user experience, but for Google search engine rankings. While there are several search engines, Google is arguably the most important as it accounts for nearly 95 percent of the mobile search market, according to Statista. Starting July 2019, Google began to use mobile-first indexing. This means that Google now uses the mobile version of your site for ranking and indexing. To rank well with Google your mobile site needs to contain a variety of elements such as content accessibility, consistent data structuring, and visual content.
To address the aforementioned issue of mobile site speed, Google also launched "The Accelerated Mobile Pages Project" or "The AMP Project," in 2016. Using Google AMP, you can publish web pages with nearly instant load speeds on mobile devices. As you might suspect, the load time within a Google search is the fastest due to the fact that Google hosts the page on its servers and gives AMP pages preferential treatment in search rankings.
Blennd Can Help
Overall, not having a mobile-friendly site is a huge reason why you need to redesign your website. Fortunately, the brand strategy team at Blennd can help. During the design phase of our website projects, our expert team of UX designers always prioritizes custom mobile designs—in addition to desktop—to create an optimized mobile experience. This means that we don't just leave it up to our developers or depend on standard mobile responsiveness, we take the initiative to ensure your site wins on mobile with a customized design. You can see our expertise in action on the mobile version of the DTC CrossFit site.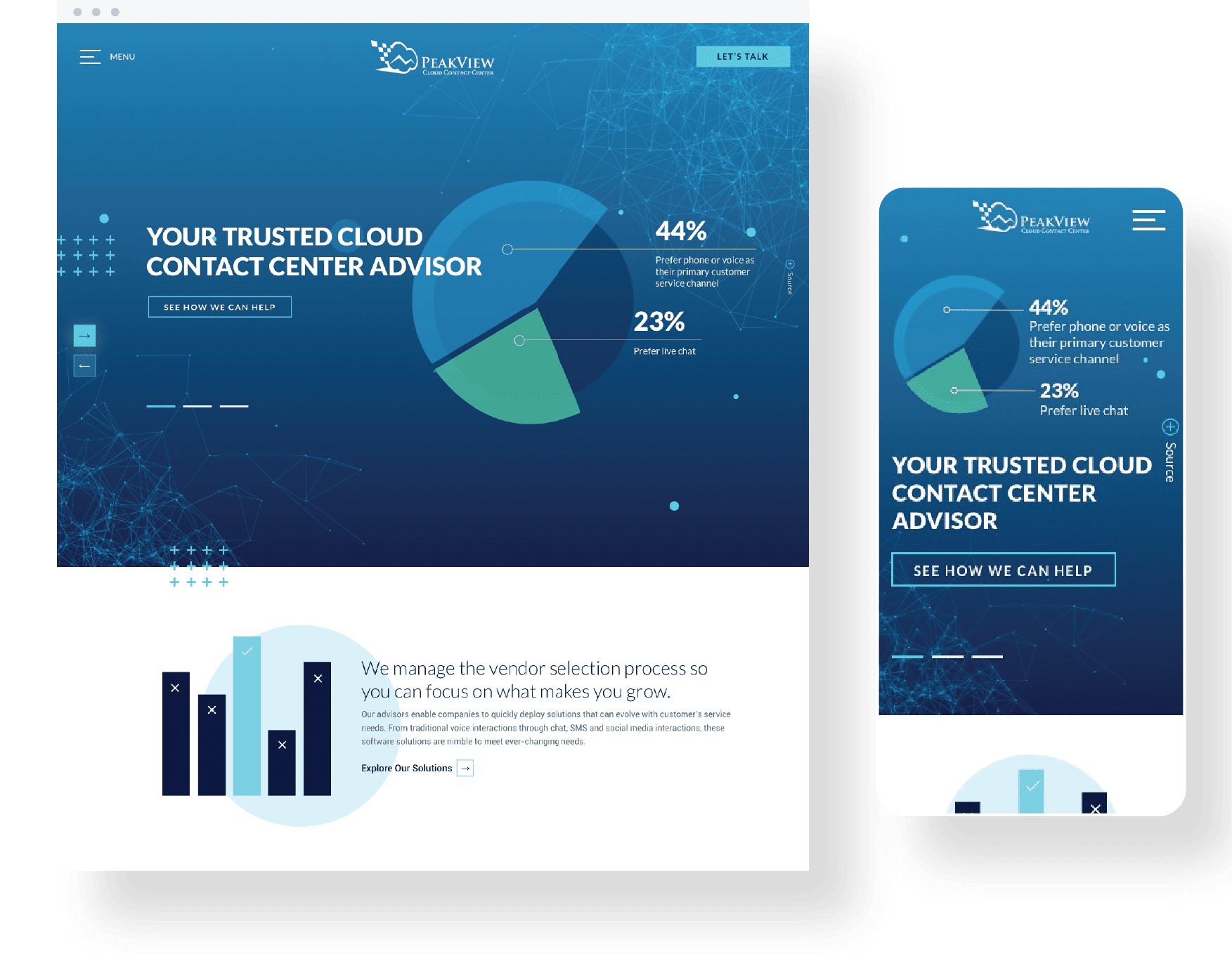 We recently re-designed the PeakView Communications website to more clearly represent their brand message and services as a leader in the software service provider industry. Visit Website
---
2. Does your website represent your messaging, industry, and brand?
If your company recently went through a rebranding, it might be obvious why you need a new website or site redesign. But that may not be the only reason your brand doesn't align with your website. If you're like many business owners, you're constantly improving your branding, messaging, and products, but does your website reflect these changes? An inconsistency in branding, messaging, or products on your site are significant factors in determining why you need to redesign your website.
Clear Messaging
If your business does not have clear messaging that accurately represents your brand, your users may question your brand's integrity. This is what also determines if they'll stay on the site, convert, or bounce immediately.
According to research from Carleton University:
"It takes about 0.05 seconds for your website user to form an opinion about your company based on your website."
Industry Competition
When answering the question, "do you need a new website?" you should also consider what your industry competition is doing. Does your site look older or display antiquated messaging or products? Are your competitor's sites more easily to navigate than yours? If your website is behind your competition, this may be another reason why you need to redesign your website. As every business owner knows well, it is crucial to keep up with—and stay ahead of your competition in order to survive and thrive as a business. That starts with your website.
Content and Brand Alignment
Another factor that plays into a user's impression of your brand is the way your content is organized. Does it make sense? Is the site flow natural?  If your site was built solely for SEO or had a lot of SEO work done, it may have way too much, disorganized content. This will inhibit your user's experience and could increase bounce rates. If you have determined that branding inconsistency or industry competition is why you need a new website, our content strategy agency can help. Contact our team to develop a site redesign strategy.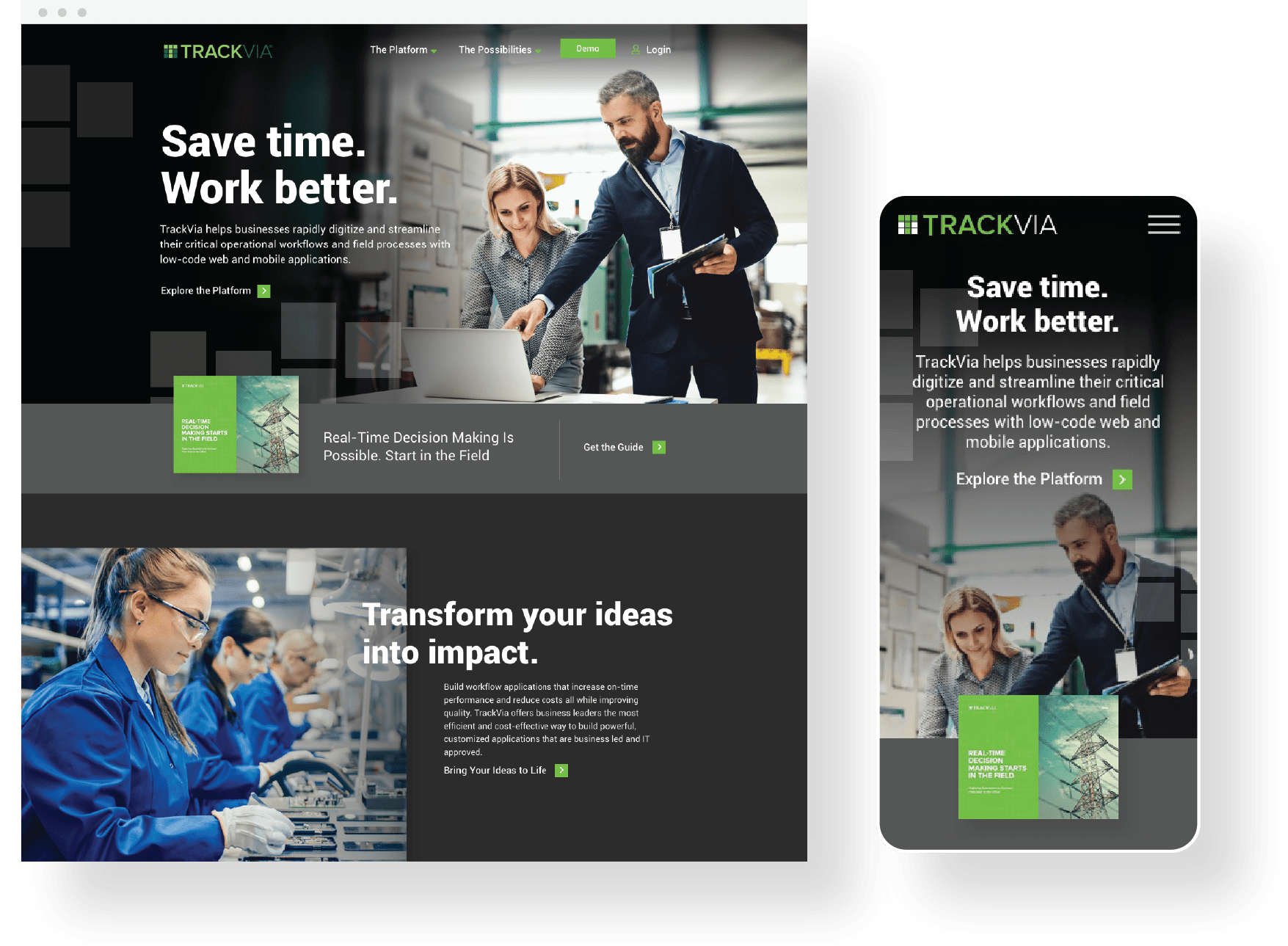 We designed the new TrackVia website with clear calls to action and messaging for users in different industries. The website utilizes inbound marketing and showcases various downloadable resources for each industry in order to provide users with valuable resources and increase lead flow for TrackVia.Visit Website
---
3. Does your website convert visitors into leads?
As we previously mentioned, it takes less than a second for a user to decide whether or not they will stay on your site or bounce. This is precisely the moment that they also decide whether or not they would make a purchase, complete a form, or any other actions that you want them to take. If you're wondering, how users make this decision, data shows that first impressions are design related.
Call-to-Action
If your site has an outdated design, too much copy, unclear messaging, confusing paths or calls-to-action, users will simply leave. According to a recent study from Sweor, 70% of small business websites lack a call-to-action (CTA) on their homepage and across their website. This is a major problem—and if you are one of those small businesses, that is costing you a significant amount of business and revenue. Similarly, if you notice in Google Analytics that your site has a high bounce rate, it is most likely related to poor design and functionality—more reasons why you need a new website.
Sitemap
Modern website design is simple, clean, and easy to navigate. If your sitemap is confusing (or nonexistent), users will not be able to find what they are looking for and your bounce rates will increase. This will also disincentivize them from returning to your site for future tasks or purchases. On the other hand, if your site redesign is simple and intuitive, you'll become a trusted source for existing users and new users alike—thus increasing your lead flow and growing your business.
Conversions and Inbound Marketing
When asking the question "do you need a new website?" you should focus on how your website converts visitors into leads. This is not just about filling out a form or calling a phone number—in fact, it is becoming increasingly harder to get contact forms filled. Instead, you have to provide value to your users before they are willing to convert. This means building inbound marketing campaigns as a way to generate leads within your website. Inbound marketing is a way to attract users to your site by creating valuable content.
We recently built a website for TrackVia that focused heavily on inbound marketing, providing users with useful resources, guides, and information in exchange for their contact information. This is especially important for higher priced products or services, where users need to spend time getting to know your business and building trust before they are ready to purchase.
Sales Integrations
In addition to having built-in mechanisms that drive conversions on your site, your website should closely align with your sales process. Where do the leads from your site go? They should go into an integrated CRM like Salesforce or Pardot. These kinds of integrations can help streamline your sales process and capitalize on valuable customer data. The new website that we build for Diplomatic Language Services combines excellent user experience and clear calls-to-action for each service they provide, with a Salesforce integration in order to quickly move leads into their sales process.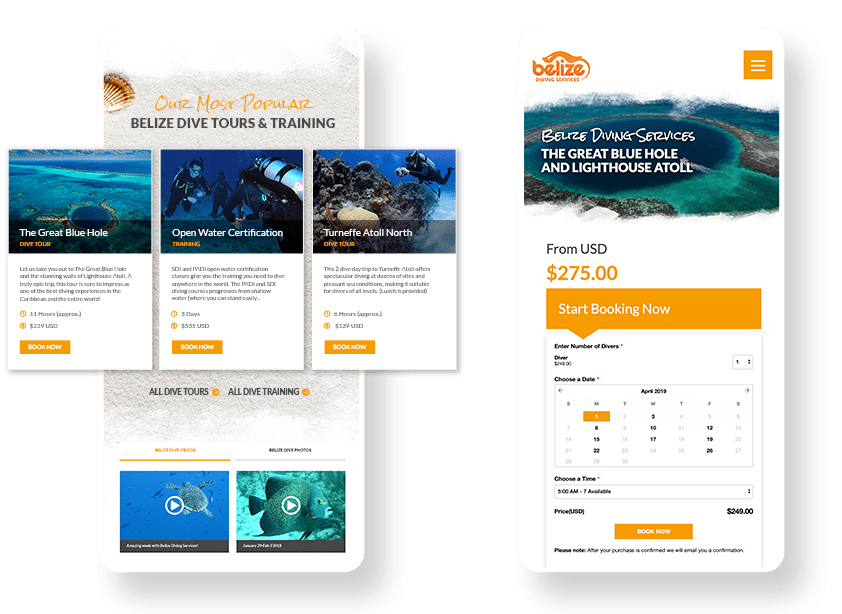 We redesigned Belize Diving Service's new website with a focus on improving site traffic and conversions. Visit Website
---
4. Does your website have the functionality you need to grow your business?
In today's inundated digital landscape, websites need to include more than just great content to demonstrate your legitimacy online. With the drastic increase of living life online, your site needs to be optimized for functionality as well. This functionality includes everything that your new and returning customers may have previously done in-store or through other avenues.
Technical Functionality
Depending on your business, this functionality could include e-commerce, online bill paying, multi-step forms, interactive maps, quizzes, and more to keep users engaged on your website. For example, we built an eCommerce site for Encompass Shower Bases that includes a custom shower base product builder and cost calculator. We took the manual spreadsheet and sales processes of selling custom built shower bases entirely online including an integration with FedEx freight—streamlining the customer experience from the initial sale through delivery.
Regardless of what kind of business you run, you should consider all of the different activities your customers need to conduct. There is a technological solve for every one of these interactions and integrations. If a lack of functionality is a reason why you need to redesign your website, contact us. We're happy to begin working with your team on a comprehensive website strategy.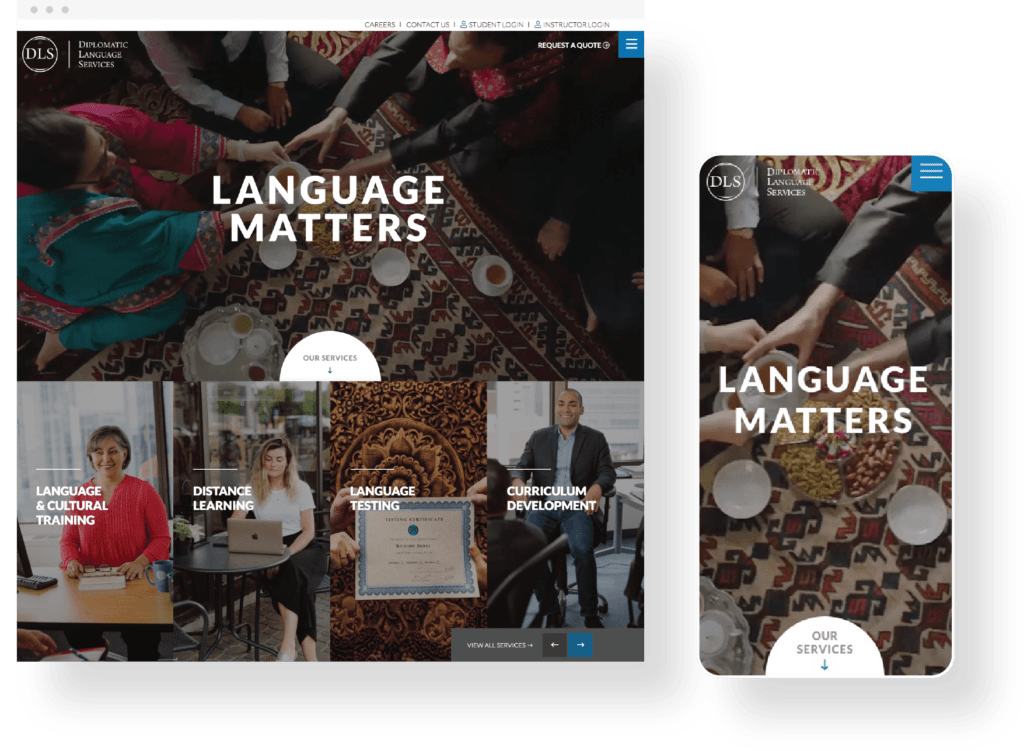 The new website that we designed and developed for Diplomatic Language Services combines an engaging user experience and clear calls-to-action with a Salesforce integration to streamline their internal lead flow process. Visit Website

---
5. Was your site designed for SEO?
As we mentioned before, your site needs to be mobile friendly to rank well with Google, but your SEO ranking also depends on other design features of your site. If you're not convinced about the importance of SEO rankings, just know that according to Junto, 93 percent of online experiences—including getting to your website—begin with a search engine. As Hubspot recently reported, since 75 percent of people don't scroll farther than the first page of search engine results, your site will need to be on that first page in order to be found.
Optimized Sitemap
While there are quite a few factors that influence your SEO ranking, one of the most common issues is when sites are simply not designed for SEO. This includes having an optimized, simple sitemap that can easily be crawled by Googlebots. Another reason why you need to redesign your website is if you have thousands of pages on your site. This multitude of pages are probably hurting your user experience and your Google ranking.
At Blennd, we build SEO into every new website project from the beginning. We apply cutting-edge SEO techniques in our keyword research, sitemap, content templates, heading structure, alt tags, meta, technical SEO, etc. We also do pre and post launch SEO audits and submit the site to Google post launch.
6. Is your website easy to update and maintain?
Another reason why you need to redesign your website is for ease of maintenance and updating. You shouldn't have to pay an expert every time you want to make a small update to your site, change content, or add products, and services. In fact, your website should be built on an easy to use CMS like WordPress. The WordPress platform is our preferred CMS at Blennd since it allows us to build fully custom websites with unlimited functionality, while having a user-friendly back end for ongoing updates after the website has launched.
Website Maintenance
Do you need a new website or a site redesign? If you or your staff has had difficulty updating or maintaining your website internally, then the answer is yes. Ongoing website updates should not be an expensive ongoing project, it is simply not sustainable and will cost your business valuable resources and money over time. At Blennd, we ensure all of our clients are set up for success in managing their new websites including a staff training on how to make updates to your new site prior to launch.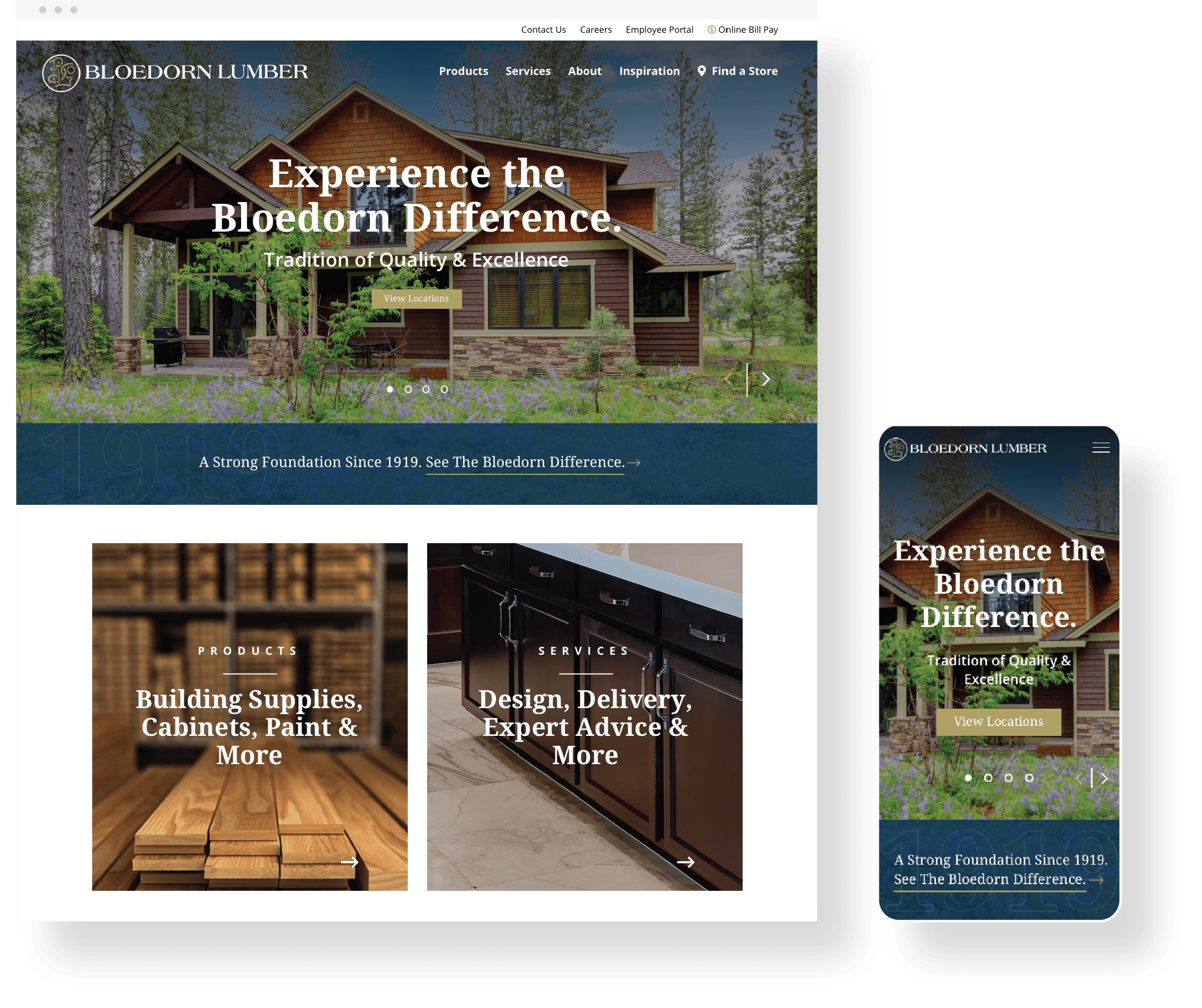 Bloedorn's new website includes an employee portal that includes policy documents, training videos and safety quizzes that their HR department can easily update and maintain on an ongoing basis.
---
Have you decided that it's time for a new website?
If you've read through these six questions and answered any of them positively, then it's probably time to redesign your website. Of course, when you're looking for expert help on your website, it's important to make an investment to get it right the first time, so you don't run into issues and have to deal with another redesign in the near future. It's important not to just hire a contractor or trust just anyone.
Contact Blennd Today for a Next-Level Site Redesign
If you have determined that it is time to redesign your website, we encourage you to contact our team at Blennd. We are a cutting-edge website design and development agency based in Denver. We build our websites with a foundation and stay on top of the latest best practices in web design, development, and SEO. Our in-depth discovery process will ensure that your site is fully aligned with your business goals, objectives, and brand. Schedule a free consultation today to discuss your website redesign strategy.